Palisades Free Library News: May 2023
May 2023 - Issue 262

Palisades Free Library
Member of the Ramapo Catskill Library System
19 Closter Road, Palisades, NY 10964
845-359-0136
www.palisadeslibrary.org
BOARD OF TRUSTEES Marjorie Galen, President; Kris Haberman, Vice President; Marty Nealon, Treasurer; Kathryn Shattuck, Secretary; Laurie Ferguson; Yvonna Kopacz; Erica Lockwood; and Maria Gagliardi, Library Director.

The next board meeting is Wednesday, June 14 at 7:00 pm in person at the library. All meetings are open to the public.
HOURS Open Monday through Thursday, 11:00 am – 8:00 pm, Friday and Saturday from 11:00 am – 5:00 pm and Sunday from 1:00 – 5:00 pm. Closed for Memorial Day and Summer Sundays beginning June 18.
EVENTS
Springfest
Saturday, May 20 from 10:00 am to 4:00 pm at the library. Enjoy snacks and smoothies while you browse the art sale. Games, crafts, and face painting for the kids.
Secret Art Auction
May 17 through May 24. Works are displayed anonymously, with well–known artists hung next to amateur pieces. You won't know whose postcard you are bidding on until the auction is over. Opening in early May 2023, the art is hung in the library's community room, with the auction coinciding with our Springfest event on May 20.
Shakespeare Performance to Benefit the Library
June 16 &17. Diana Green and members of the Strange Bedfellow Theatre will perform a delightful comedy about small–town life. When a scheming interloper comes to town and tries to cheat the local merchants, the townsfolk circle the wagons. Set in the theme of the American frontier, this is a comedy appropriate for all ages. For tickets visit strangebedfellowstheatre.com. Performance will be held at the Palisades Presbyterian Church.
PROGRAMS
To view a complete listing of our programs, visit our website. Registration required.
Painting the American Revolution with Historian Joel Farkas
Monday, May 1, 11:00 am on Zoom
Native Plants for Your Garden Presented by MGV Donna DeSousa
Tuesday, May 16, 4:30 pm in the Community Room
Bees;Friendly Backyards
Tuesday, June 6, 4:30 pm in the Community Room
Miss Bugbee and the Palisaders, Presented by Palisades Interstate Park
Monday, June 12, 7:00 pm on Zoom
Brownie Wise: Original Tupperware Lady with Historian Leslie Goddard, Ph.D
Wednesday, June 28, 7:00 pm on Zoom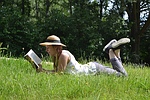 GET READY FOR SUMMER READING FOR ALL AGES, JUNE 26 to AUGUST 11