Palisades Free Library News: October 2022
Oct 2022 - Issue 259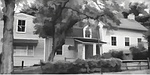 PALISADES FREE LIBRARY
Member of the Ramapo Catskill Library System
19 Closter Road, Palisades, NY 10964
845-359-0136
www.palisadeslibrary.org
BOARD OF TRUSTEES: Marjorie Galen, President; Marty Nealon, Treasurer; Paul Riccobono, Vice President; Kathryn Shattuck, Secretary; Sarah Buterbaugh; Kris Haberman; Yvonna Kopacz; Library Director: Maria Gagliardi. The next board meeting is Wednesday, October 12 at 7:00 pm in person, at the library. All meetings are open to the public.
HOURS
Open Monday through Thursday, 11:00 am - 8:00 pm, Friday and Saturday from 11:00 am - 5:00 pm and Sunday from 1:00 - 5:00 pm. Closed Monday, October 10 for Columbus and Indigenous Peoples' Day and Thursday, November 24, for Thanksgiving.
Introducing Tutor.com The Mighty 5 Libraries engaged Tutor.com, a free, online tutoring service for South Orangetown students! The service includes live academic tutoring, video lessons, writing feedback and college and graduate school exam preparation. Use your library card to access through our homepage.
Farm Day!
Sunday, October 9, 10:00 am - 2:00 pm & Dinner at 5:30 pm
A family-friendly day at Lomar Farms to benefit the Library. More info in this newsletter.
YOUTH PROGRAMS
Please visit our online calendar to check out our storytimes, take & make crafts, Teen Advisory Board meetings and more! Our annual literary pumpkin contest is also coming up. Please register to pick up your free pumpkin at the library!
Halloween Cake-Decorating for children in grades K - 5
Thursday, October 20 | 4:30 pm - 5:30 pm at the Library
Improv Theater Workshop for children in grades 3-5.
Monday, October 24 | 4:30 pm - 5:30 pm at the Library
Pumpkins: Seeds, Sprouts and Pie! For grades K-5.
Thursday, October 27 | 4:30 pm - 5:30 pm in the Community Room.
ADULT PROGRAMS
Need more information? Contact Emily Nevill 845-359- 0136, enevill@palisadesfreelibrary.org
Remember the Ladies: Women during the American Revolution Monday, October 3 | 11:00 am on Zoom
The Nuremberg Trials
Wednesday, October 12 | 7:00 pm on Zoom
Honoring Indigenous Futures: Oil & Water, with Brooklyn Demme
Saturday, November 19 | 11:00 am at the Library Two short documentary screenings. First is "Protection Not Protest: The People of Standing Rock" and second is "The Community of River Wachirpas." An open community discussion will follow on Indigenous rights, relationships between land and culture and building community.