PALISADES INDOOR FARMERS' MARKET OPENS 11TH YEAR
Dec 2018 - Issue 243
In 2009, opening the Palisades Winter Farmers' Market was a grand experiment. There were no other indoor winter farmers' market in the tri-state area. All I knew, from my experience as the founder of the Nyack Farmers' Market, was that when the summer market ended, faithful shoppers begged for the market to continue into the winter. The only place a winter market was feasible and practical was the New York City Greenmarkets, due to the sheer volume of customers, not in a cold, snowy unplowed parking lot in Nyack.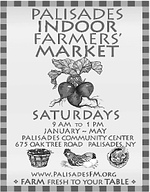 After getting involved with the PCC in 2008 and falling in love with the space, it seemed the perfect place to give an indoor market a go. Now in our 11th year, beginning Saturday, December 8, we've weathered through many challenges. Winter storms (should we close?), winter illnesses (vendors and customers at home in bed), school vacations and three-day weekends (shoppers off to the slopes or the beach).
A few years in, over-saturation of winter markets opening nearby thinned out both our customer base (they shopped closer to home) and vendor availability. Then after seven years we lost our beloved Pura Vida Fishery to logistics. Some vendors stopped doing winter markets simply because they needed a break from the stress of their summer markets and others retired. We are proud that many of our early vendors became so successful they stopped doing markets and opened shops or went on to burgeoning Internet sales. So it continues, our constant quest to seek out new quality vendors.
But our mission has remained the same; to provide local farmers and food artisans a winter financial opportunity, to make available to our community fresh produce direct from the farm, to create a gathering place for neighbors during the winter months and to strengthen our community's relationship to the people who grow and prepare the food that we put on our table. It's true: No farms. No food. We need them and they need us. We look forward to seeing you. If you have never come to the market, please come by and see us!