Palisades Presbyterian Church News: March 2017
Mar 2017 - Issue 236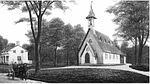 Ash Wednesday Service, March 1, 7:00 pm

Easter Sunday, April 16.
6:30 am sunrise service at the Ludington's house
10:00 am service at Palisades Presbyterian Church
Parent Support Group 7:30 pm first Wednesday of the month (except Ash Wednesday).
For information and to join please contact : Reverend Angela Maddalone at: pastorajm@gmail.com
New Orleans North
Swing into Lent with a rousing New Orleans-inspired concert presented by Music to Table to be held at the parish hall on Saturday, March 4 at 8:00 pm. The Mark Sganga Trio will be playing a lively mix of jazz and blues. A reception follows with hors d'oeurves and wine, courtesy of the Sidewalk Bistro in Piermont. Proceeds go to People to People. For reservations call 201-766-1410. $25, $30 at the door.
Palisades Presbyterian Church
117 Washington Spring Road
PO Box 687, Palisades, NY 10964
845-359-3147
www.palpresny.org