Palisades Presbyterian Church News, March 2019
Mar 2019 - Issue 244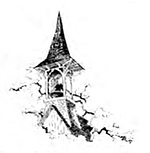 PALISADES PRESBYTERIAN CHURCH
117 Washington Spring Road
P.O. Box 687
Palisades, NY 10964
Phone: 845-359-3147 Website: palpresny.org
The Spaghetti Dinner, brought to you by the children of the Palisades Presbyterian Church to benefit United Hospice of Rockland, is on Sunday, March 31 from 5:30 pm to 7:30 pm. $8.00 Adult, $5.00 Children 12 & under. $20.00 families of four or more. Spaghetti with meatballs, salad, bread and dessert will be served.
This year's Ash Wednesday service will be held in the Sanctuary at 7:00 pm on March 6. The service will feature quiet meditation, singing of hymns and the traditional imposition of ashes.
Regarding the accessibility ramp, we are still taking bids and hope to have a contract shortly.