Palisades Presbyterian Church News: May 2016
May 2016 - Issue 233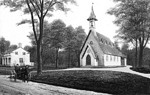 Strawberry Festival
Saturday, June 11, is the date for this year's Old Fashioned Strawberry Festival at the Palisades Presbyterian Church. The Festival runs from 2:00 pm to 6:00 pm, rain or shine, on the Church grounds. Enjoy strawberry smoothies, lemonade, and of course the famous strawberry shortcake (with homemade whipped cream) while having fun with neighbors and friends. Face painting and other children's activities make this a great family outing too. For more information, contact the Palisades Presbyterian Church at 845-359-3147, or visit the Church website at www.palpresny.org.
Memorial Day Breakfast
Monday, May 30 from 8:00 am - 11:00 am.
Adults $8.00, Children under 12 $3.00.
Prayer Group Forming: Have you ever longed for a place to share your prayer needs with others? A place to be supported and cared for spiritually? If so, come to our new prayer group. Prayer connects us to God and to each other in a unique way and lifts our spirits, literally. We will be meeting at the church on the fourth Thursday of the month from 6:45 pm - 8:00 pm. All are welcome.
Sunday Worship Service: 10:00 am
Sunday School: 10:00 am.
Bible Study: Wednesdays 12:15 - 1:30 pm
Choir Rehearsal: Thursdays 8:00 pm
Pastor: Reverend Angela Maddalone
Office Hours: Tuesday and Thursday,
12:00 pm - 5:00 pm
117 Washington Spring Road
PO Box 687
Palisades, NY 10964
845-359-3147
ppc10964@gmail.com
www.palpresny.org.
Please check out our Facebook page!
www.facebook.com/ThePalisadesPresbyterianChurch