Palisades Presbyterian Church News: Oct. 2023
Oct 2023 - Issue 263
Pastor: Reverend Erin Moore -Sunday Worship: 10:00 am
Tel: 845-359-3147, Email: ppc10964@gmail.com, Website: palpresny.org
Follow us on: www.facebook.com/ThePalisadesPresbyterianChurch@palisadespresbyterianchurch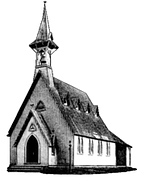 Programs: Bible Study: Wednesdays 11:00 am to 12:00 pm (Zoom)

Parent Support Group: Meets monthly in the evenings Contact the Church office for more information
Collections: Center for Safety and Change: Diapers, wipes and travel size toiletries.
Midnight Run: New items including t–shirts, underwear, socks and travel size toiletries. Items can be dropped off in the wooden cabinet outside the parish hall.
Thank You! Thank you to all who came out to support both our annual Memorial Day Pancake Breakfast and our old–fashioned Strawberry Festival! Both were lovely days with perfect weather and a great crowd. We were also blessed by the wonderful music of the Hudson Woodpile for the Strawberry Festival once again. Thank you!
Updates: You may soon notice some updates being done to our beautiful sanctuary. After almost 160 years, our historic front doors will be receiving some care as they've begun to show a bit too much wear and tear. Along with this, we will be replacing our exit doors from the parish house. They are in need of some repairs; unfortunately, parts are impossible to find, which means the only option is to replace them. We have received a generous donation in memory of Mary Ann Garland to cover half of these expenses. However, we still need to raise an additional $8,500 to complete these needed projects. Please consider donating to ensure both the charm and safety of our community church for years to come. A donation can be mailed to the church with "church doors" in the memo line (P.O. Box 687) or you can donate online through our website. Thank you for your consideration in aiding this project and our community church!