Palisades Swim Club
Mar 2021 - Issue 253
The Palisades Swim Club is happy to report 2020 was a successful year. Amid financial uncertainty and a global pandemic the staff put together an amazing year that was certainly the highlight of the summer for many local families.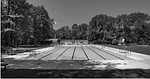 The expansive grounds and open space allowed the club to conform with the strict Covid-19 regulations put in place and as a result it was one of the only clubs to open for the season in the area. Due to the hard work of the staff and the open layout, the club experienced great organic growth of new members. There was also a high demand for pool access by local swim teams due to the area closures and the PSC was able to form a partnership with the Aquaracers Swim Team, a local club, which rented the pool grounds on weekend mornings and after hours on weekdays, providing a much-needed source of additional income.
The club has undertaken new capital improvement projects to make the grounds more competitive with other clubs in the area and looks forward to a successful 2021 season. The club is accepting new members and offers limited seasonal as well as full bonded memberships in a truly rare and unique setting with open grounds and a laid back setting to spend the summer with family and friends. The club offers access to tennis courts as well as lap lanes in the main pool. For membership inquiries please email or visit palisadesswimclub.com.
.