Part II: Different Town, Same Accident: What Is Being Done?
Oct 2016 - Issue 234
This past summer on Friday, June 3, only 200 yards away from a school in Mosier, Oregon, a set of broken bolts in a railroad bed could no longer handle the stress of another Union-Pacific train carrying oil from the Bakken formation in North Dakota. Fourteen of the 96 DOT-111 tanker cars ruptured, releasing 42,000 gallons of crude oil.
The resulting fire lasted 14 hours but remarkably not a single life was lost. The consequential damage to the town and environment, however, was catastrophic. Most surprising might be that the tracks were inspected less than a month before the accident.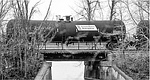 Two distinct differences between our area and Mosier are population and rail traffic. And in both instances we are in a worse position. The oil traffic through Moiser is only a fraction of what the CSX River Subdivision Line in Orangetown handles. Additionally the rail operator, CSX, recommends a half-mile evacuation in all directions in the event of a derailment fire. A rapid, half-mile evacuation might seem feasible in parts of Rockland County, but the implementation of a half-mile mile evacuation in the densely populated Bergen and Hudson counties in New Jersey is surely not feasible on short notice.
Our greatest threat in Palisades of direct long-term impact from a derailment and spill might arise from contamination of the water supply. The point at which millions of barrels of crude oil pass over the Oradell Reservoir is an 86 year old wooden railroad bridge. CSX and the National Transportation Safety Board (NTSB) have disagreed about the condition of the bridge with the latter claiming it to be in worse condition than CSX, the owner, states. Although we do not directly draw our drinking water from this reservoir, the 800,000 residents who do would unsustainably be sharing the common Lake DeForest reservoir with us for the foreseeable future.
The only relief in sight is the controversially slow implementation of the new CPC-1232 tanker car. The old DOT-111 tank cars are not designed to handle any pressure and have a wall thickness less than one half inch. The new CPC-1232 cars are designed as pressure vessels with a thermal insulating jacket and a wall thickness of close to three quarters of an inch. Although the thicker skin will be less susceptible to rupture from impact, the greatest change will be in the outlet valves that most frequently fail in a derailment. The NTSB requires DOT-111s to be retrofitted with thermal jackets by 2018 but still allows the use of the outdated tankers until 2025. Many critics argue this is much too long since there are on average two major spills a year.
Banning oil on the railroads in densely populated areas will likely send more of it down our beloved Hudson River via barge. The point at which a risk becomes too great to accept is sometimes unclear but having accurate information to make a decision shouldn't be. As consumers, we are all guilty of accepting some degree of environmental risk to maintain our modern lifestyle but the point at which the consequences of taking that risk become unacceptable is what should truly be in debate.