THE PHANTOM
May 2017 - Issue 237
Never prepared for a birthday or Christmas, my husband is, and always has been, a last minute impulse shopper. While always appreciated, his gifts are for the most part extravagant, but unfortunately useless. So this past Christmas the family watched intently for my reaction as I unwrapped my mystery gift. I was speechless, but my sons could hardly contain their excitement as there on my lap, sat the DJI Phantom 4 Drone. The boys' imaginations instantly ran rampant, but all I could say is "Where's the receipt?" After some intense convincing by way of Youtube, we charged the battery, and went out into the yard. With a glass of wine in my hand, I watched my new "toy" hover over the Hudson as it filmed our Christmas Day salute from several hundred feet over our heads. For once, Dad's impulse was spot on!
Clearly, it's the oldest trick in the book, a "gift" for Mom (but really for the boys!)

Susan Nemesdy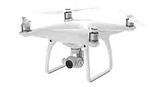 The Phantom 4 flies up to three miles in distance and 400 feet in height for about 28 minutes. Remarkably simple to use straight out of the box, it can travel speeds reaching 45 mph while shooting in HD video. This three pound marvel is about the size of a microwave. Features include auto homing, object avoidance, and personal tracking capabilities. The remote base station paired with any smart device allows you to tap and command with the ease of a finger movement. The DJI Phantom 4 is priced around $1,200.
For years our exposure to drones has been limited. In the news they are often described as the weapons of choice to minimize military casualties in warfare. But drones are already used in some parts of the world to deliver desperately needed medicines and supplies to desolate areas. They have quickly found their way into mainstream life with increasingly innovative uses.

Many of today's high-tech drones are equipped with High Definition quality video that makes aerial photography a boon to industries ranging from real estate to the entertainment industry. Insurance companies can access steep, weather damaged roofs; utility companies can inspect towers, wire conditions and pipelines; transportation departments can check bridges and RR tracks; local traffic situations can be monitored without having to dispatch a helicopter; and the agriculture industry can check crops for signs of pest infestation or watering needs.
Small drones are even used in place of bees to pollinate crops. Police and security firms use drones to monitor public events. Firefighters can more safely and efficiently approach a risky fire, and search and rescue teams can utilize drones in rough terrain. On a local level, a drone flying over Tallman Mountain State Park or the cliffs of the Palisades could be very useful in case of an emergency.

Drones do have limitations. Like all flying objects, they are restricted by bad weather and windy days. Ideas such as drone delivery service from Amazon - or from your local pizza parlor - still have years of safety and logistics to iron out before they can come to fruition.

Today's drones range in size as much as they range in capability. From experimental drones the size of blood cells to drones the size of airplanes, these machines are truly on the cutting edge of technology. As drones "take off," their uses are limited only by imagination. For a more in-depth look at drones, check out the January 2017 issue of Consumer Reports at: www.consumerreports.org/robots-drones/10-ways-drones-are-changing-the-world/