Planning for Orangetown's Future
Mar 2018 - Issue 240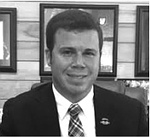 Chris Day, Orangetown's newly elected Town Supervisor, was kind enough to sit down with us to discuss his goals and a number of issues important to our community. Here are his comments.
"I have three priorities as Town Supervisor, growing the economy, preserving the areas' suburban characteristics and creating a budget that will bring taxes down. I want to bring in revenue by filling vacant commercial space at locations like Rockland Psychiatric Center, Pfizer and Blue Hill Plaza. We need to respect the character of each village and hamlet and attract companies that are a good fit to our Town such as data centers and small financial firms. New tax revenues would help fund the creation of a senior center, dog run and a recreational center.
"I believe it is important to standardize our policies and streamline our government. Much of town planning is archaic. I want to bring it up to date. I want to streamline enforcement fines making a system that is easier to use and harder to get away with something that is wrong. I want to rewrite codes to make the system smoother. Mobile code enforcement officers will be given tablets to enable them to immediately print out citations for violations.
"We have purchased a scanner and will start with the building department to digitally scan its documents then go on to the assessor's office and other departments. A database that includes every department can be used for cross-referencing. For instance, using a new computerized tablet on-site, a Code Enforcer inspecting a building can check the tax records to see if two families have paid taxes at one location where only one family is allowed.
"I plan to bring in outside consultants who can make our government more efficient. Can we get better interest on our finances? I want to redo our website and install an information kiosk in Town Hall where you can type in your questions and it will tell you how to go about resolving an issue. Is it town, county or state related? It will make the process easier for residents.
"A number of years ago Orangetown purchased 348 acres at the Rockland Psychiatric Center from the 550 acres New York State owned. The State still owns the children's psychiatric property and a power plant that is in the process of being decommissioned. Recently, J.P. Morgan Chase purchased 60 acres from Orangetown for a data center. They will be taking down structures and remediating the area. Their taxes will be phased in over a period of years. This is a great opportunity for us since this property has never been on our tax rolls. The State requires that a portion of the land we purchased be reserved for recreational purposes. We are exploring our options for the remaining acres. It's questionable if there will be a park by the lake - the town already has any number of park areas - but there will be walkways.
"The purchase included the Broadacres Golf Course. The town owns Blue Hill Golf Course, which is now profitable. We have to ask if it is financially and recreationally realistic for the town to have two courses and will explore the sale of Broadacres. Funds could be used to upgrade and expand Blue Hill.
"Property taxes in our area have been too high for many years. We need to look to State government for ways to allow us to deal with the new tax overhaul. While we can't change the structure we can grow our economic base to lower taxes.
"We do not plan on actively pursuing undocumented immigrants. We will not go into their homes or work places. It is not our job, it is ICE'S. We will only report them to federal authorities if they are involved in a criminal investigation.
"The opioid crisis is a major problem facing the nation. Our Substance Abuse Committee will get more involved with school superintendents. Currently we have one Student Resource Officer (SRO) who covers both Pearl River and Tappan Zee High Schools. Each school should have their own SRO who can develop relationships with the kids. We need to work with the county to obtain funding for this.
"Orange & Rockland has requested a rate increase in gas and electric. There was a small rate increase in 2015. They now are requesting a more substantial increase. We plan to lobby the State Board to have the increase stretched out over a number of years and to require the company to pass along all of the company's Federal tax savings to its customers.
"Hi Tor is now under the auspices of the county with area towns contributing to the county instead of directly to Hi Tor. It has the funding and is ready to roll with the construction of a new animal shelter on its present Pomona site.
"Route 9W is not safe. I plan to make it a priority to improve the lighting and to get the speed limit reduced. I'm going to find the guy at the DOT responsible and annoy him until he approves the changes."