Rethinking Architectural Design
Dec 2021 - Issue 256
Manhattan's Hudson Square district is rich in history. It borders Soho to the east and the Hudson River to the west. To the north is Chelsea, Canal Street to the south. In the first quarter of the nineteenth century, it was one of the most fashionable parts of town with the largest concentration of Federal and Greek Revival townhouses in the city. One hundred years later, the neighborhood had become industrial with warehouses and the establishment of a printing center. Change was afoot again when in 2013 the area was rezoned for taller buildings, attracting ongoing construction such as ABC Disney headquarters at 4 Hudson Street and Google's new campus at St. John's Terminal situated along the river.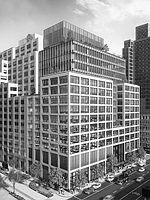 Architect Rick Cook, a Palisades resident, and his team at COOKFOX, an architectural firm known for incorporating the latest green technology into its designs, has designed two buildings under construction in the area. This past September, ground was broken at 555 Greenwich. Designed by COOKFOX, the 270,000 square foot, sixteen story office tower connecting Hudson Street to Greenwich Street, will be one of the most efficient commercial buildings in New York City, a benchmark for sustainable and responsible development, meeting New York State's 2050 carbon neutral targets with 46% overall carbon reduction and 29% reduction in electrical consumption.
COOKFOX designed the structure to eliminate the use of fossil fuels for heating and cooling, dramatically reducing energy and carbon production. A slab with a radiant activated system reduces 50% of carbon emissions using a thermal active superstructure for the first time in a New York office building. An all-electric heat pump-based Direct Outdoor Air maximizing fresh air was integral to the design strategy. This all-electric concept combines caissons with geothermal capacity, a hydronic dedicated outdoor air system (DOAS) that utilizes the thermal mass of the structure to condition the space and rooftop air source heat pumps.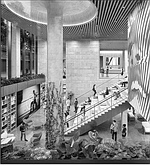 Its modern design utilizes historic materials. Natural stone, terrazzo, wood and bronze are employed in natural patterns to encourage well-being. The lobby sports a baffled ceiling with giant lily pad-shaped columns reminiscent of Frank Lloyd Wright's Johnson Wax Headquarters in Racine, Wisconsin. Expansive window openings throughout celebrate light and the views out them. Maximizing daylight in buildings can save energy and reduce carbon emissions as well as help us to learn better, be more productive and lower stress.
St. John's Terminal, in the early 20th century a railroad terminus covering two city blocks, is being redeveloped as part of Google campus. Designed by COOK-FOX, there are nine stories of new building that sit on top the three-story historic rail terminal with setbacks and planted terraces. Stone and brick will be integrated with steel and glass. Designed to achieve LEED Platinum certification, the project's biophilic design will focus on health and a connection to nature with filtered fresh air, biodynamic lighting and rainfall catchment. This concentration will support physical and mental health by creating human connections with nature through the use of planted terraces that wrap around three floors with expansive views blurring the boundaries between interior and exterior.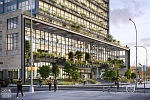 A healthy building for the planet is usually healthier for people too. Rick Cook comments, "The green building movement has evolved in interesting ways. The first was clearly energy and carbon reduction in the context of climate change. In our pursuit of making buildings better for the planet we stumbled on two ways to make buildings better for the people who occupy them. The health and wellness movement was a driving force before the pandemic and is even more so now. Global unification and what we believe to be our biologically evolved need to connect with nature has become the focus of our work through Biophilic design."