The Rockland Sample: Landmark Brain Research in Orangetown
Oct 2017 - Issue 238
The Rockland Psychiatric Hospital property has been in local news for years: What to do with this semiabandoned 600-acre property in the middle of the Town of Orangetown? Constructed in 1927 and originally called Rockland State Hospital, at its peak in 1959 with 9,000 residents and a staff of 2,000 it was considered "among the best planned psychiatric hospitals in the world." Today, driving through it, it feels like a ghost town, but on the property is a very active and renowned research facility: The Nathan Kline Institute.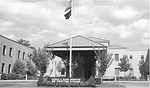 Founded in 1952, The Nathan Kline Institute (NKI) is one of the nation's most respected research centers devoted to mental health. With hundreds of researchers on staff, their landmark contributions encompass the fields of Child and Adolescent Psychiatry, Memory Disorders, Alzheimer's Disease and Dementia, Schizophrenia, Major Mood Disorders and Cognition, Emotional Brain Health, along with Mental Health Services and Solutions. Their mission: "To improve the lives of people suffering from disabling psychiatric disorders by discovering new and better ways to detect, and treat psychiatric disorders leading to improved outcomes and ultimately prevention."
For years, I'd see flyers on bulletin boards around town calling for volunteers for the Rockland Sample Initiative-Brain Research. Curious, I finally called. What I learned was intriguing. NKI has been conducting a major lifespan brain study, collecting data from people ages 6 through 71 since 2010. Using Magnetic Resonance Imaging (MRI), it is one of the first large-scale studies specifically designed to catalog and share valuable data with scientists world-wide. The National Institute of Health (NIH) selected Rockland County not only for NKI's state of the art imaging facility, but because the diversity of Rockland's population closely matches the population of the entire United States.
I signed up for the Adult Longitudinal Study, funded by the NIH and the New York State Office of Mental Health, that studies the relationship between cardiovascular health and cognition as we age. After an intake interview on the phone, three sessions at NKI were scheduled with the understanding I would return twice for three years for a follow up.
The facilities are modern and the staff was welcoming. The first day was an hour spent filling out consent forms and taking brief memory and thinking tests. When I left, to my surprise, I was handed $85. The second session, a full day, began with a round of blood tests and vital signs, then a series of skills testing on the computer, paper and pencil tests of my memory and problem solving skills, then personality, emotional, and psychological interviews, an hour in the MRI for the brain scan, then six minutes on the stationary bike, testing my pulse before and after.
Breakfast and lunch were provided. I was most impressed with the seamless coordination of the different tasks. When one test was finished, someone immediately escorted me to the next. The third day was a cardiovascular fitness test, a few more rounds of questions and then I was done. Another payment, in all totaling $305! Chatting with the MRI technician, two things stood out to me: One, just as life expectancy increases so does the number of years people can live with Alzheimer's; and two, after decades of forward movement in brain research nationwide, federal funding is being cut.
As they were learning about my brain, so was I. I found that in some memory and problem solving tests I did great and other areas, well, let's just say it gave me food for thought. The experience was a win-win. They got a piece of my brain for future studies and I got reacquainted with how I think.
Visit NKI's website to learn about their mental health services, the dozens of trials they are conducting, and how one can participate in a study. www.rocklandsample.org or call Chelsea Gessner at 845- 398-2183.