Rockleigh Equestrian Centre
Oct 2019 - Issue 246
Driving down Route 340 into New Jersey you can't miss Rockleigh Equestrian Centre across from the Paris Avenue turnoff with its big metal gate and beautifully manicured lawn. Stephanie and Peter Walsh have owned the ten-acre hunter/jumper facility with three barns, eight turnout paddocks and two fields for the past nineteen years.
I discovered that a number of locals ride as well as board horses here. Alice Kim is one. "I drove by this beau- tiful Centre one day after dropping my youngest off to his first day of school. Since it was my first two hours to myself in a long while, and I had been wanting to take horseback riding lessons my entire life, I decided to give it a go at 45 years of age. The barn, staff, horses etc. were all so wonderful, unintimidating, welcoming and yet, professional. I dove right in and purchased my first horse two-plus years ago. They have taken beautiful care of my horse and of me since the start. It has become a place for me to relax, enjoy riding and horses, and my nine-year-old daughter has now found her place here as well."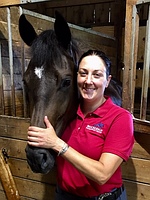 I recently paid a visit to Barn Manager Lucia Rittenhouse-Montes, who for the past six years has been in charge. "I run the facility, manage the staff, train and manage the horses – we currently have eighteen boarders - and teach out-of-barn lessons." As a kid Lucia's first job was cleaning stalls. "I have worked every job in this industry all the way up to managing Olympians, so I know how things need to be done."
Izzy Tovin, who boards her horse at the Centre says, "Lucia is a great trainer and supportive friend; she and everyone at Rockleigh take amazing care of my horse." Her mother Suzanna agrees. "Lucia is supportive as a trainer and always looking out for Izzy to be comfortable as a rider. Our horse is pampered and cared for and I am grateful that I don't have to worry. Rockleigh has created a supportive and inclusive environment for everyone who rides there."
We help our clients purchase their horses," Lucia says. "It's important to bring a trainer with you when you get a horse, one that suits you and fits into the facility's program." Several of the horses are available to lease, which allows you to ride at your convenience and trail ride through Rockleigh Woods. Spring and fall, the Centre takes part in a number of pacing events. This involves galloping in teams on a marked trail, competing to replicate the time set by a rider earlier in the day. During the summer, riders take part in local area shows and HITS in Saugerties, which includes hunter/ jumper shows and classes.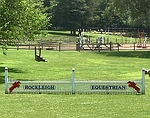 Liz Ottley is also a REC fan. "This barn is my happy place. I consider everyone there part of my extended family. The bonding is genuine. The staff is devoted to outstanding care of our horses. The lessons are customized to the rider; they are not intimidating and the entire 'barn family' supports all riders. The facility itself is beautiful and always well maintained. REC is a special place!" Lynne Sandhaus who has ridden here over the years says, "The present day team is the best. The instructors are solid and responsive in keeping both animals and clients safe. It is a wonderful place for all levels of riders."
In 2016, the Centre petitioned Rockleigh for permission to build an indoor ring on its property, particularly useful during winter months to exercise the horses. Neighbors opposed and the application was denied.
Riding lessons are $60 a half hour. Call 201-768-9745 or email Lucia at barnmanager@reqcenter.com for more information.