Route 9W Safety Improvements Update: March 2020
Mar 2020 - Issue 248
When Department of Transportation (DOT) representatives didn't show up for a scheduled meeting in December, a new meeting was rescheduled for January with a sense of urgency. This was because DOT had contacted three Palisades families with property abutting Route 9W about acquiring portions of their property to implement Phase 1 of DOT's preliminary safety improvements plan. This plan includes removal of the northbound bus stop at the intersection of Route 9W and Washington Spring Road, and installation of two new large bus stops; one in the "forever green" triangle on Oak Tree Road and the other on Route 9W slightly north of the Washington Spring Road intersection. The existing southbound stop would also be enlarged.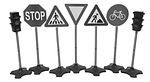 At the meeting were representatives from the offices of Assemblywoman Ellen Jaffee, Senator David Carlucci, Town Supervisor Teresa Kenny, the Police and Highway Departments, six Palisades residents and three DOT representatives. The first order of business was a request from community representatives to halt any further actions toward the acquisition of property for the bus stops, and to stop any further implementation of Phase 1 by the DOT. Later in the meeting, it became apparent that Phase 2 includes a widening of Route 9W to create a turning lane.
The community is adamantly opposed to any widening of the intersection for several reasons:

Widening the road will promote speed - already a problem at the intersection, and on Route 9W in general.

Out of 53 bus runs a day, only four are northbound on Route 9W, and Rockland Coaches has testified that zero to three people exit those buses. The expense of creating three bus stops at this intersection is unwarranted and excessive.

This is a historic, rural district, not a commercial roadway like Route 303. It is unnecessary to create a large intersection to accommodate increased traffic for a maximum of three hours during rush hour.
The community's original requests to improve safety were simple: redesign Route 9W's wide shoulders to create "eyebrow" curbed bus lanes to eliminate north-bound motorists from passing on the right; move pe- destrian push buttons to the SE/SW corners of Route 9W; move the No Turn On Red sign next to the traffic light; re-program the traffic light with a delayed green for southbound traffic to facilitate left turns onto Oak Tree Road, and allow for a smoother flow of northbound traffic through the intersection.
Another possible solution to the intersection's safety challenges is a roundabout. Roundabouts are recently been being promoted by NYS DOT as effective safety solutions. After much research, Susan Nemesdy created a presentation to gauge public opinion of the idea at two Saturday farmers' markets. About 95 percent were in favor of a roundabout with a few reservations: it should fit into the footprint of our current intersection; flashing lights for a pedestrian crossing are included, and it has a rural design as opposed to a commercial roundabout.
The DOT will present a new plan in a few months. The designer of the preliminary plan presented has since re- tired, and the new team has not yet studied the intersection, but they listened carefully to the community's concerns and complaints and seemed to understand the issues. The community will be alerted to any next steps.