School Trips and Youth Job Openings on the Hudson River Sloop Clearwater
Mar 2020 - Issue 248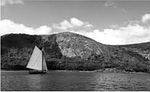 Kids today have no idea how lucky they are to enjoy the beauty of our shining Hudson River. People swim in it. They canoe, kayak and row on it. They build houses overlooking it, and they photograph and paint it. It wasn't always this way. When I was a kid in the early 1960s, the Hudson was famously polluted; its name, like Cleveland's "burning" Cuyahoga River, was a child's joking shorthand for any toxic stream that bubbled with streaks of industrial waste and raw sewage.
In 1969, activist Pete Seeger launched the Hudson River Sloop Clearwater to rally support for cleaning up water pollution. One part nautical beauty, one part history, one part education, and one part watery adventure, Clearwater continues to draw attention to the importance of caring for our environment.
At the end of Clearwater's cruising season in late October 1994, I was lucky enough to secure a berth as an on-board volunteer. The sloop was tied up to a rickety pier in Riverdale and I arrived by train. Separating myself from a crowd of urban commuters, I walked up the gangplank into the salty world of the 19th century. It felt very surreal. Looking around for Captain Ahab, I instead met a simpatico group of fellow volunteers.
Crew members were equally skilled using the ship's wood stove, or climbing the rigging to the top of the mast almost 85 feet above the deck. The taciturn, competent captain, and first mate; both women, took turns at the long tiller of the 106 foot, multi-ton craft with supreme confidence. No wind. Never mind. We fired up the engine, cast off into the river and began a long week-end cruising up to Garrison and West Point, filled with never to be forgotten experiences.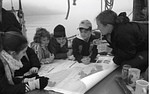 Clearwater's renowned Sailing Classroom program is available to fourth graders and up, including college and university students and continuing education groups. Instructions on booking a group sail, costs and logistical information is available at clearwater.org/education/sailing-classroom
Watch: Pete Seeger's Legacy, a 2019 film directed by Christopher Lukas, celebrating the 100th anniversary of Seeger's birth. (https://vimeo.com/261693837)