Sounds of Music, 2021
May 2021 - Issue 254
Music is a family affair in this Heyhoe Woods house. Even before the Yamin family moved to Palisades in 1995, their house on Heyhoe Woods Road echoed with the sound of music. The original 1939 owners, Jean and Edith Cooley, were musicians. Leigh Gibbs Gore, a conductor, lived in the house prior to the Yamins.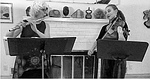 "We have always had music in our family," said flutist Wendy Stern Yamin. Her mother was a pianist, and her sister Joyce Lindorff is a harpsichordist. Daughter Shelby started playing violin at the tender age of two and has since received performance degrees from The Manhattan School of Music, San Francisco Conservatory and The Juilliard School. Son Tyler, two years older, played piano, percussion and guitar growing up, and is presently a PhD candidate in ethnomusicology at UCLA. Luckily, husband Michael, a scientist and patent agent, enjoys all the music-making in the household. During these pandemic days, he decided it was time he joined in, taking up the ukulele.
Equally adept as a modern and period violinist, Shelby was the winner of the Juilliard 415 Concerto Competition while there working toward a Masters in Historical Performance and has been featured as a soloist with the Philharmonia Baroque Orchestra and other prestigious ensembles. Wendy, also a Juilliard alumnus, is an avid proponent of newly composed music. Inspired by Shelby's interest in early music, she took lessons on the traverso last year, a 17th century wooden, one-keyed flute, reading music from early hand-written manuscripts. "It was sure a learning experience" she said laughing.
Wendy and Shelby have collaborated on two CDs; one of award-winning composer Lei Liang's premiere performance of "Listening for Blossoms" and another of "Ensemble Triolet," with Wendy's sister Joyce, performing contemporary music for harpsichord, violin and flute.
Over her professional career, Wendy has performed with orchestras and chamber music groups throughout the U.S. and abroad but, she says, "It was always nice to come back to my home in the woods." During these COVID days, Wendy has not traveled for over a year. As an adjunct professor at Montclair State University and Suzuki flute teacher trainer, she has been teaching remotely via Zoom exclusively. Though she remains at home, Wendy has been the invited guest flutist at virtual workshops in Australia, Canada, South America and the UK. Her private studio at home now includes students from throughout the United States.
Shelby has been discovering creative solutions to the pandemic's restrictions, which have prevented musicians from rehearsing and performing in person. "Playing together remotely is a challenge; there's a loss of spontaneity in it. I was inspired to find new ways to put things together online in a meaningful way." She is now the associate producer of SalonERA, a twice monthly live-streamed early music-focused variety show and has started sharing music regularly on her own YouTube channel. Two years ago, Shelby started a Sunday music concert series at the community center as a way to give back to her community.
Wendy comments, "Music is a spectator sport…it's a mutual experience between the player and the listener." Shelby adds, "It's important that music continues to be a shared experience between the musicians and the audience." On Mother's Day, Sunday, May 9, Wendy and Shelby will be doing just that as they perform outdoors at a Palisades Community Center Lawn Concert at 4:00 pm. This will be their first live performance since the pandemic started over a year ago. I suspect they are looking forward to performing before an audience as much as we are to enjoying their glorious music in person.