Storm Surge Barriers for New York Harbor: A Threat to The Hudson River?
Oct 2018 - Issue 242
It's hard to forget Superstorm Sandy's far-reaching disaster all along the New York/New Jersey seaboard and lower Manhattan in 2012. Closer to home, rising water levels and storm surge tossed boats onto land and devastated many homes along the Hudson River in Piermont and Palisades. We still hear about communities in New Jersey that are waiting for relief. But what hasn't been in the news is the $19.4 million federally- mandated and federally-funded study for a more than $20 billion project to protect shoreline communities from future storm surges.
The study, which has been described as possibly the largest study ever conducted by the United States Army Corps of Engineers is called The New York and New Jersey Harbor and Tributaries Focus Area Feasibility Study. According to Olivia Cackler, Army Corps Coastal Section Chief and Lead Planner of this study, "typically our studies focus on one municipality or a watershed, but this one encompasses many watersheds and 900 miles of coastline in New York and New Jersey with the New York and New Jersey Harbor as the focal point." This study addresses the protection from future superstorms and takes into consideration the reality and affect of rising sea levels.
The study area covers 2,150 square miles and is estimated to affect roughly 16 million people throughout 25 counties in New York and New Jersey. Along the Hudson River, coastal storm risks extend all the way north to Troy.
Solutions under consideration are: structural, including building floodwalls, levees, and offshore barriers; non-structural, such as elevating homes, evacuation plans, and zone changes; and natural, as in creating marsh islands and wetlands, and aquatic restoration.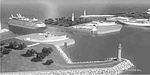 There are six options under consideration in the Army Corps study: no action; construction of a five mile long harbor barrier from Sandy Hook, New Jersey to Breezy Point in Queens with openings for tidal flow and ship traffic; multiple large barriers near the Verrazano Bridge, the Arthur Kill, and the Long Island Sound between the Bronx and Queens; barriers around New Jersey's Hudson River waterfront at Jersey City and Hoboken, along with barriers blocking Newark Bay and the Passaic and Hackensack Rivers; several smaller barriers in the region, including one across the Hackensack River, which is the source of Nyack's drinking water; and perimeter barriers along shorelines only.
Since this report was unveiled in July 2017, there has been a groundswell from scientists, environmentalists, elected officials, municipalities, and community members against the controversial building of giant sea- walls and ocean gates, believing they would have catastrophic consequences for the Hudson River and New York Harbor.
According to Riverkeeper's website, the "in-water barriers envisioned for New York Harbor would choke off the Hudson River Estuary where it meets the ocean – restricting tidal flow, blocking the migration of fish and trapping sediment and contaminants. And with gates to allow passage of ships, the barriers would do nothing to protect against inevitable flooding from sea level rise." Riverkeeper believes shoreline-based measures such as dunes, dikes and levees are the only structures that will protect New York City and other communities against both storm surge and sea level rise flooding – while leaving rivers to run free.
The original Scopng Period for public comment ended August 20, but because of public outcry about little notice, it was extended to September 20. It is not known what the next step is but the Army Corps is planning on narrowing down the six alternatives to one or two in the coming months. It is projected that the final report will be released in the spring of 2021 with implementation occurring in 2022.
To get a sense of the magnitude of this project, take a look at the 3D visualization video of this massive five mile storm barrier: google "NYC Outer Harbor Gateway Storm Barrier" or view:NYC Outer Harbor Storm Barrier.
Hudson River communities can stay abreast of this important issue by visiting Riverkeeper's website Riverkeeper.org.