Suez Water NY Wants Its Money Back
Oct 2016 - Issue 234
After years of local opposition, the plan for a multi-million dollar desalination plant in Haverstraw, New York is officially belly up. But who picks up the roughly $50 million tab for the cancelled project's legal, engineering, and planning costs? Look closely at that water bill in the next few years because it will be you, the customer.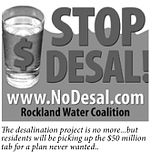 Desalination plants are typically built in chronically dry areas where strict conservation measures fail to ensure an adequate water supply, but conservation was never considered when the desalination plant was proposed in 2007. Why not? Arguably because multi-million dollar infrastructure investments are good business for privately owned utility companies. Rockland's water company, United Water New York (now Suez Water New York, a subsidiary of the French multi-national company Suez Environment), is just such a company. It answers to investors, not to the public. Expensive infrastructure projects legitimize proposed surcharges and rate hikes, and justify the approval of such proposals by local regulatory authorities such as the New York Public Service Commission.
So when various experts pronounced Rockland's resources inadequate for the needs of a growing county back in 2006, the New York Public Service Commission directed then United Water New York to find new sources of water. The water company proposed a new reservoir or a desalination plant. The desalination plant was approved.
But last December, the Commission reversed its decision. Suez Water was formally instructed to abandon its plan for the plant. Based on a report prepared by consultant Amy Vickers & Associates, "Water Losses and Customer Water Use in the United Water New York System," the Commission determined that, for at least the next ten years, Rockland County's water needs can be satisfied by conservation efforts such as repairs to leaky pipes, better storm water management, water reuse, and consumer education.
However, the Commission determined Suez Water could seek "appropriate cost recovery" for expenditures related to research and development of the now abandoned project. In February of this year, Suez presented evidence to the Commission detailing $51 million in project planning expenditures. The Commission rubber-stamped $39 million as "prudent" costs, but denied Suez's proposal for a 13.2 percent customer surcharge that would increase the average customer's bill by about $100 annually. The surcharge proposal has been tabled twice by the Commission, and is currently suspended until January of 2017.
In July, as directed by the Commission, Suez presented its conservation plan. It includes the location and repair of leaks; a rebate program encouraging purchase of low flow toilets, showerheads, and high efficiency washing machines; education on responsible lawn watering practices; better management of storm water and run off; and perhaps most interestingly to the customer, a plan to divide Suez Water's service zones into smaller sub-districts. Sub-districts will allow Suez to better monitor water usage, and to send a subsequent "price signal" to customers encouraging water conservation.
What does that mean, exactly? Suez quotes economic theory in its conservation plan. "If the price goes up, the quantity demanded will go down and this is one of the principles behind setting conservation oriented rates."
In other words, at least until 2017, there will be no surcharge directly linked to the now defunct desalination project. Instead, there are likely to be rate hikes. In fact, Suez has already requested a 5.6 percent increase over three years. If approved, the additional revenue will make a nice dent in the tab for the desalination plant no one wanted. But don't call it a surcharge. It's for conservation. You, the customer, will be tasked with lowering your water usage, and paying Suez for the privilege.