Yes! It is the Head of David
Dec 2020 - Issue 253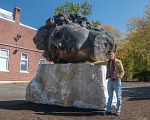 On a sunny day in early October, Sparkill welcomed a new addition to its quaint Main Street. A small parade of trucks and cranes delivered a colossal bronze sculpture depicting the enlarged head of Michelangelo's David, lying on its side atop a raw 14-ton block of Carrara white marble. Placed on the newly landscaped front corner of the former Chase Bank lot, the sculpture, known as "Time Fragment/Homage to the Masters," is the work of renown sculptor Henry Schiowitz. But wait, what's it doing here? It is a wonderful story of connecting the dots. "It's all due to the 10964 Newsletter," said Henry, currently a resident of Naples, Florida and Italy, who attended the installation with his wife Karla.
In the 1990s, Henry lived in Piermont and in 1999 he sent out feelers that he was looking for a place where he could both live and have a studio. A member of the Northern New Jersey German Shepherd Dog Club, he befriended fellow German Shepard lover Dr. Virginia McCauley, a Board member of the Palisades Community Center (PCC) who suggested he meet PCC's President John Converse.
At the time, the PCC was struggling financially and overwhelmed with critical repairs and a decision was made to invite Henry to be an Artist-in-Residence. Literally. He adapted the building into a residence, where he lived and worked for over two years. An article about Henry in the 10964 Newsletter caught Palisades neighbor Simon Bergson's eye, and soon the bigger than life statues of a Suspended Wishbone and The Big Kiss, sitting on the front lawn of the PCC, cemented his intrigue of Henry. Simon contacted Henry and an enduring 20-year friendship was born.
Cut to 2020, Simon envisioned the perfect temporary resting place for his friend's Head of David. "I had just purchased the former bank site," said Simon, "and needed to do something to add value to my real estate purchase. So why not? In this barren parking lot, I thought the Head would bring life and art to the Village, and Henry needed a place to place the Head." Eddie from Arbor Hill readied the sliver of land. Deeply in awe and inspired by the genius of the 26-year old Michelangelo's David (created in 1504), Henry embarked on a three-year personal challenge, with the collaboration of half a dozen artisans, to hand-carve the over-sized head of David from a 40-ton block of Carrara marble. Cast in a ton of bronze, the surface was hand-honed to the highest possible technical standards. Allowed to weather naturally, the patina is in a constant state of evolution.
Henry's work has been exhibited throughout the United States, Europe, India, Singapore, and Mexico and now, lucky us, Sparkill can be added to the list. Visit www.henryschiowitz.com