The Youth and Government Summit in Albany: a First Person Account by Palisadian Owen Epstein
May 2023 - Issue 262
In 1936, the YMCA started the Youth and Government (YAG) program in New York, the first of its kind in the nation. YAG is a model government which allows students to take on roles within the Executive, Legislative and Judicial branches, as well as a Press Corps. The program, which now exists in almost all 50 states, and the District of Columbia, has given students an opportunity to learn how government works, and to connect with peers across the country.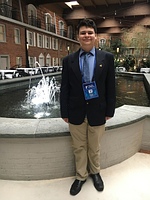 Recently, I attended the 87th State Conference, and it was an absolutely thrilling experience. As a Sophomore and first–time attendee, I was part of the 49– member Tappan Zee High School delegation, its largest to date, in NY State District 4. The conference, which took place from Friday until Sunday at the end of March, brought together nearly 500 delegates from all parts of New York State, with dozens of buses converging on the unique Desmond Hotel in Albany.
Upon arrival things quickly became hectic. During orientation, New York State Lieutenant Governor Antonio Delgado surprised us with an inspiring speech, and then we broke into our respective branches. I was assigned to be an attorney with Judicial and was instructed to review my brief for the case that I had been working on for the past three months to present at the NY State Capitol in Albany the next day. For my case, I represented the respondent, the YMCA, in the Court of Appeals. I had to argue to uphold the lower court's decision that the termination and revoked xpension of an employee with 25 years of employment was fair and proportionate to the offense of redirecting YMCA funds and falsifying records.
On a cold and blustery Saturday morning, we arrived at the Capitol and took over the halls and chambers of this beautiful building. I presented my case in front of a panel of justices and believed I had made a strong argument, but would not find out the decision until the next day. Later on that night, with the stress of the event relieved, we changed out of formal clothes and enjoyed a variety of party activities and voted on next year's NY State Youth Governor and other leaders. On Sunday, during the closing ceremonies, we learned the outcome of our arguments and bills and met the newly–elected officials.
Though I did not win my case, it was an exciting experience. The justices ruled that while termination was proportionate to the offense, the pension must be reinstated. Although not an outcome I fully agree with, I would recommend participating in YAG for any student, especially one interested in government. The opportunity to learn civic engagement firsthand is priceless. I plan to return to next year's conference and look forward to proposing and debating a bill on the floor with the Legislative. Stay tuned.