ADAM'S STASH: A GOOD YARN IS THE WHOLE STORY
Dec 2018 - Issue 243
I loiter quietly among the towering, overstuffed yarn cubbies at the Stitchery, Rockland County's pre-eminent yarn emporium located in Pearl River, waiting for Adam Leber, the second generation proprietor, to be free. He's in consultation with a customer about ribbon for a baby bootie project. He gently admonishes, "My mother doesn't care for ribbon on baby clothes. This is what she does instead." And he shows the customer how to make a cord that's in fact much more interesting than ribbon. The customer asks him where he learned so much about knitting and he replies, "Everything I know about knitting, I learned at my mother's knee…or in the streets."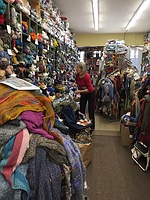 Another customer enters the store. "I'm looking for a mind- less knitting project," she says. Adam counters, "No such thing. Knitting is a mindful activity." She tries again. "I should have asked for an idiot project, something an idiot could do." He doesn't back down. "Only an idiot can knit an idiot project, and you are not an idiot." The customer, eyes dancing with amused affection, says, "This place is heaven."
Judi Leber opened The Stitchery in 1973. It was a family affair: Adam her assistant, and Al, her husband, an artisan in his own right, often found sitting atop a ladder safely above the fray, lobbing commentary onto the scene below. They offered warmth and welcome, an extension of their home. In those days, I bought all my yarn from them, but moved away in 1995, and tried to fill the void with other yarn dealers.
Adam has held the reins of the business since 2003, changing little about the place; if anything, the air of abundance now approaches an intoxicating abandon. I hear the sound of yarn slipping free of its cubby and spilling to the floor in a soft avalanche. Adam pays no heed. There are no emergencies here.
He will admit that some people might find his place overwhelming—the stock of yarn from every corner of the earth soars in multicolored flight to the top of the fifteen foot ceilings and overflows from baskets and bins along the walls—but he's careful to point out that every- thing in it is curated. Ten times a day he might say about any given skein, this is one of my favorite yarns, and it will be true. Miraculous- ly, he knows where everything is and can put together a stunning project from yarn hidden behind a cardboard box or under a mound of throws.
Adam has known from an early age that knitting is his destiny. For him, it's transformational: take two sticks and a ball of string, and like magic, produce a practical thing of beauty. After a long day's work, he rewards himself by knitting at home with his cat. When he lies awake at night, he gets up to knit, the rhythm inducing a meditative trance in which he conjures peace of mind.
Adam's knowledge is prodigious. One day I had told him I was knitting a jacket from a 1947 Vogue Knitting pattern reissued in 1987. He said, "The A-line?" and pulled the same magazine out from behind the counter, turning to the very page.
So is his resourcefulness. My mother once asked me to knit her a bedspread from a pattern book that gave no details on materials or quantity. We went to see Adam. He had me knit some swatches from two or three different cottons and when my mother had chosen the one she wanted, he took the swatch to the deli next door and asked the owner to weigh the swatch on his meat scale. The owner happily obliged and with the result, Adam calculated how much cotton to order.
Finally, the last customer departs. I walk out of the shadows toward the counter. Adam looks up from what he's doing and says, "Hi, Jackie," as if the last time he saw me was yesterday. I feel like the prodigal knitter returning home.
For more information, go to www.thestitcheryny.com