Aidan Quinn
Nov 2019 - Issue 247
In 1978, perched high on a roof in Chicago, 19-year-old Aidan Quinn looked out over Lake Michigan and had an epiphany. He was working as a hot tar roofer and two buddies offered him the morning usual; a bottle of whiskey and a joint. Quinn says he had both in hand when he said to himself, "I'm going to be an actor. I'm going to find an acting class. I'm going to do something with my life."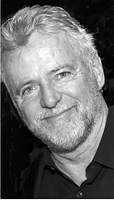 It wasn't the craziest decision for the romantic son of an Irish Catholic professor of English. In Chicago and County Offaly, Ireland, Quinn and his four siblings grew up "tripping over Yeats and Joyce and Beckett," and he thinks that instilled a love of storytelling in four out of the five of them. His oldest brother Paul, now deceased, was an actor, writer and film director, sister Marian is an actor and writer, and brother Declan is a noted cinematographer.
But sitting on that roof, Quinn was also fresh from a six-month stint in Dublin in a cold water bed set trying to be a writer, or as he puts it, "washing dishes and reading Joyce, and dreaming of being a writer, more than being a writer," so maybe acting seemed the better bet at the time.
Whatever the impetus, he handed his buddies back the booze and weed, and within a year was studying with Byrne Piven, co-founder of The Piven Theatre Workshop (now Second City) in Evanston, and cast as Piven's co-star in a Chicago production of a play they developed together. He's been a working actor ever since.
If this sounds like a Hollywood script, Quinn is quick to correct the record. "I didn't work for two years after that," he says, but between survival jobs washing dishes, painting houses and delivering furniture, he devoted himself to study of the craft.
Eventually, he landed parts in two Chicago plays, The Irish Hebrew Lesson and Companion Piece, and earned raves for both from a top critic. That led to an agent, which led to an audition for the role of the brooding, rebellious lead in the film Reckless (1984). Next was Desperately Seeking Susan (1985), a quirky comedy directed by Susan Seidelman, and Quinn's career was launched. He went on to star in over 60 films, and in numerous television and theater projects. A very few film highlights are The Mission (1986), Legends of the Fall (1994), Song For a Raggy Boy (2003), and Quinn's personal favorite, written and directed by his brother Paul, and filmed by brother Declan, This is My Father (1998).
In 1984 Quinn was introduced to the young actress Elizabeth Bracco at Café Central, a popular hang out for actors, dancers and artists. "We started talking and I swear to God, it's that stupid corny thing," he says, "...I know you. How do I know you? It was other worldly." They married in 1987, and have two children, Ava and Mia. Palisades is home, but they have a house in the Catskills near where their daughter Ava, who is autistic, lives and works. Quinn also gives his time to philanthropic causes whenever possible, and uses his crack golf skills in charity celebrity tournaments. It's a challenging balancing act, but Quinn credits his wife with making it all possible.
Quinn's career is littered with emotionally vulnerable characters – men tortured by conscience, battered by love, disillusioned by fate. As an actor, he's comfortable in those extremes, but he strives to moderate in life. "That third glass of wine, that extra piece of chocolate," he says, "you don't need that… you just have to find things that are more truly rewarding." For Quinn, that seems to be caring for his family and extended family. He's proud his success as an actor allows him to do that. He's also proud that he actually likes much of the work he's done. He compares it to a batting average. "In baseball if you hit one of the three, you're on the all star team. I've managed to do quite a bit better than that in this."
This November Quinn is back on the stage in a Signature Theater revival of Horton Foote's Pulitzer Prize winning play The Young Man From Atlanta. He'll take on the grueling role of Will Kidder, a bombastic, self-made Texan barreling his way through his family's emotional wreckage after the death of his son. Quinn wasn't sure he was right for the part, but true to form, he made the unsafe choice, and said yes, knowing the schedule (eight shows a week), and the role, will take everything he's got. "It's wear and tear on the body and the mind and soul," he says, but like all those years ago on that rooftop, he's going for it.
The Young Man From Atlanta runs from November 21 to December 21 with the possibility of extension through January.