Alice Munro Haagensen
Mar 2006 - Issue 192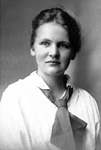 A Notable Historian Remembered
Alice Munro Haagensen was born in 1900 at Waquoit Bay on Cape Cod, where her family had a summer place. Her father, a medieval historian, taught at the University of Pennsylvania, then at the University of Wisconsin in Madison (she remembered the lakes, the winter sports, walls of snow), and finally at Princeton as the head of the history department, always summering on the Cape.
The second youngest of five children in an "articulate family" (her words), Alice attended Wellesley College and graduated from the University of Wisconsin in 1921. She knew that she wanted to be a writer. After a year at the Sorbonne, she worked in New York as a reporter on the Globe (making $5 a day) and then for awhile at Scribner's Press.

She met her husband, Cushman Haagensen (whose family had come to North Dakota from Norway in the 1850s) on a transatlantic ship - he was the ship's doctor, newly qualified, and she was returning from Europe. She told how he saw her coming aboard and had her seated at his table. By the end of the voyage, they were engaged. Throughout their sixty-year marriage, she was his constant helpmate. She ran the house, entertained colleagues and students and visiting dignitaries, helped with the editing of his book, Diseases of the Breast (he was a foremost expert on breast cancer), taught herself Greek when he opened a clinic in Athens and needed an interpreter.

Longtime Palisades Resident
The Haagensens came to Palisades in 1941, renting Dean and Mrs. Robbins's house on Woods Road for $85 a month. A year or two later, they bought the house, paying much less than the real value because the Robbins's wanted them to have it. It was a medieval-revival house with fourteen outside doors, a secret room, a tiny consecrated chapel, and three furnaces. They made it very much theirs for fifty years.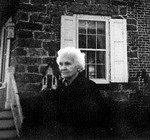 After her husband's death, in 1990, the house was sold. Alice moved to an apartment in the home of her daughter, Alice Gerard, and then, for the last four years of her life, to Nyack Manor in Valley Cottage. She died there, in her sleep, in January, 2006, at the age of 105.
Alice was a walker, out every day in all seasons. Liking to walk was among her secrets for a long life (the others were having intellectual interests, a good family and being an optimist). She was a hands-on gardener who hated to see a plant go homeless and always brought boxes of perennials, freshly dug, to the Palisades Library spring plant sales.
In the village Alice involved herself with the school and with the Library. Her daughters Alice and Karen attended the Palisades school, which had two classrooms for its eight grades. Parents took a great interest in school affairs -- there were meetings and arguments about lunches and plays. The Library was run entirely by volunteers -- it was not until 1962 and after much soul-searching that it joined the Orangetown library system.
Local History Author
It was through her work on the Library board that Alice first became interested in local history. In 1944, the Palisades Library had to move from its quarters in the Big House on 9W. Alice was packing up books when she realized how much history was there - maps, deeds, photographs, a many-volume early nineteenth-century diary, Winthrop Sargent Gilman's notes describing the village over a century ago -- almost all of it unknown. Then, in 1957, Alice and others formed a Historical Committee associated with the Library.
In the 1970s members decided to write a book on the history of Palisades, each member taking a topic. Alice worked on the story of the blockhouse that had guarded the ferry route and been an important communications center during the Revolutionary War. The rest of the group dropped out. So Alice went ahead and wrote the book they were planning by herself. It took an extraordinary amount of work, searching through old documents, maps and photographs, not only locally but throughout national, state and county records. Palisades and Snedens Landing was published in 1986 and was dedicated "To my helpful husband." It is no less than a source book for the history of Palisades from the time of the Tappan Indians to the turn of the century, a book that is lively, scholarly, readable, and comprehensive. Its miscellany of appendices shows the range of the author's interests: material too interesting to leave out but too particular for inclusion in the main text.
Historic Houses of Palisades, published by the Historical Committee in 2001, is largely based on Alice's encyclopedic knowledge of the village and its inhabitants. In the 1980s she helped with applications that resulted in two Palisades districts and several individual houses being placed on the National Register of Historic Places. She was consulted on Sneden family history by the Virginia Historical Society and received the Rockland County Historical Society's Zehner award for her work. She continued to collect material on the early twentieth century and her own period in Palisades, planning for a continuation of her book.