Allie Rosenwasser married
Dec 2017 - Issue 239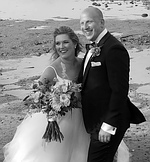 On October 7th, a beautiful Indian summer day, we celebrated the marriage of our daughter Alexandra to Jacob Klein of Baltimore, Maryland. Allie, who wanted to be married at home on Ludlow Lane, asked that the ceremony be held in front of the majestic Magnolia grandiflora, which was planted to commemorate her birth. The wedding party of nine groomsmen and nine bridesmaids was family and close friends. Katie, Allie's sister, stood as maid of honor; Jake's best man was his brother Sam. Cantor Tracey Scher of Larchmont Temple officiated the vows.
Our home was transformed into a tented gala where all enjoyed family, friends, food and drink. The entire event was a nod to homes far and near—the guests noshed on farm-to-table family-style dining that was locally sourced and delivered, and toasted with wines from a local vineyard, Millbrook Winery of Dutchess County; Charm City was celebrated in turn with welcome bags featuring National Bohemian beer and Utz potato chips. The evening was capped by speeches from the parents, best man, and maid of honor who each recounted humorous and touching anecdotes from Jake's and Allie's earlier lives. Under a waning gibbous moon, the band Lawrence took over and music floated though our meadow; we danced the night away.
Allie, a graduate of Johns Hopkins University, is the Events Manager at Baltimore magazine. Jake, an undergraduate of Washington University in St. Louis who also earned an MBA from the Carey School of Business at Johns Hopkins University, is a fourth-generation supervisor in a family owned and operated grocery chain in the Baltimore area, Klein's ShopRite of Maryland. The two met though a volunteer tutoring program for under-served students in inner city Baltimore. Allie, Jake, and their West Highland terrier MacFarlane "Mac" Oscar Klein reside in Baltimore, Maryland.