Back to Life
May 2021 - Issue 254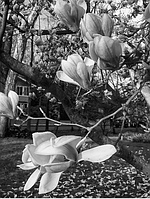 It's a gorgeous 65 degree day in April and daffodils are blooming. Spring is here and with it a crocus-like hope that things are returning to a modified version of normal. My neighbors are gathered in my yard and all the adults are now vaccinated. For the occasion I have showered and changed my clothes. That is HUGE. What can I say? It's been a year. We've all been scuffed up and tossed around, but as Yvonne De Carlo sang in the original 1971 version of "Follies," "...but I'm here. I'm still here." We are still here.
I want to check in with neighbors to find out how they're doing. In my yard, I am joined by Jansen Tubo, his wife Minette and their two children; Jace, 7, and Jenny, 2. Jansen, a male nurse, works in an extended care facility for the elderly. He talks about the PTSD that shadows this past year. He had COVID himself last April. In September his grandmother, deeply loved and the person who helped raise him, passed away in the Philippines. He could not travel there and mourn with his family. An avid cyclist, he's looking forward to the return of the Gran Fondo. His wife Minette is an occupational therapist with the Nyack School District. Minette looks forward to fulltime in-person learning for her special education students. The challenges for virtual learners are enormous and Minette worries about them.
I ask Tubo's son Jace what he misses most. At 7, he misses his friend and neighbor Dominic. Dominic, Jace reports, has lost not one, but two teeth! He knows that one day, maybe not too far from now, they will play together, ride bikes and "talk about stuff." Jenny, at two, can't express her feelings and spends our visit trying to climb into our water feature. The Tubos are making the best of it. They are people of faith and that seems to sustain them.
Also visiting are Michele Kolatkin and her two boys, Ian and Aaron. Michele, an effervescent and dedicated speech pathologist, instantly says that hugging is what she's missed most. Wasn't that something we took for granted? The Kolatkins' sons are practical and perhaps a little better adapted than adults. Ian, 12, says it's been very strange, but one great thing was that the Kolatkins finally got to see their grandparents and family on Long Island. Ian's also the number one fan of waterparks so he looks forward to the thrill of a water drenched giant slide. Aaron, at 15, says the upside of the pandemic has been more sleep. Did I mention he's 15?
As for me, I missed seeing smiles and TEETH! In the bizzaro logic of the pandemic, my husband Terry and I have spent thousands on them lately; root canals, extractions, etc…(none of it insured of course.) Masked as we've been it seemed so pointless - I could have had a set of teeth made of mahogany, who would know? But for all of us it is the human touch, the shared experience we long for. It is ever so slowly returning, and with it a new feeling; gratefulness, so grateful, for the many things we once took for granted.