Charlotte Buck, Olympian
Oct 2021 - Issue 255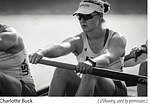 She was late to the party. It wasn't until Charlotte Buck, a lifetime Nyack resident, was in college that she decided to act on sister Suzanna's recommendation and trade in her high school theatre and debating credentials for the Columbia University rowing team. Her father Roger is a scientist at Palisades' Lamont-Doherty Earth Observatory and her mother Sharon Quayle is an Ob-Gyn Specialist with a local practice. Charlotte never imagined that her decision would lead to the extraordinary experience of representing the United States at the Olympic Games this past summer in Tokyo.
Of her decision to make the shift, Charlotte says, "Rowing is both easier and harder than most sports. Easier, because it involves perfecting a single motion; harder because it is incredibly grueling. So many rowers give up before they ever reach their full potential. It's just that hard." Rowing uses 86% of your body's muscles. Two things kept her coming back: being out on the water in the stillness of early morning with the birds singing and the mesmerizing "whoosh, kerplunk" rhythm of the blades cutting the water and the camaraderie of her teammates. "We really loved each other," Charlotte acclaims. She thrived in this environment and was voted MVP and Captain of her Columbia Rowing Team in 2017 and 2018.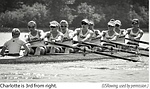 After graduating, she wanted to continue this new-found love, perfecting her technique. She would need an internal discipline to continue her exhausting practice schedule, maintain steady improvement and overcome disappointments when she encountered setbacks. The challenge was daunting but her resolve unwavering. Her dream now was to become an Olympic rower. It seemed a far way off, but she persisted. As she became recognized in international competitions, she was invited to the USRowing training/selection camps for the women's team in Chula Vista, California, and in Princeton. In the year-long postponement of the 2020 Olympics, though devastating for many of her teammates, Charlotte saw as an opportunity. She would have an additional year to train, helping to offset her relative inexperience.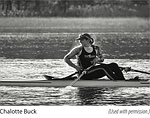 The Olympic trials did not begin until May of this year. Charlotte had to demonstrate her prowess both with different sized boats and crews on an ergometer (affectionately known as an "erg")—a rowing machine that elec-tronically measures your time and distance. Selection for the 2021 team was based on erg and on-water performances with final decisions made in June after a grueling two-week race period featuring thirty 1,500-meter races. Charlotte prevailed and was named to the Olympic team to compete in the "Eights," with seven other rowers and a coxswain. USA was reigning Olympic champ in this event, having won gold in the previous three consecutive Games. Despite the emotional pressure and physical exhaustion, Charlotte was exhilarated. She was officially an Olympian. Tokyo was remarkable, though a blur in many ways. Covid rendered the 2021 Olympics unique. Athletes were sequestered and had to return home one day after their competition, so there was little opportunity to socialize with women from around the world. "I kept my expectations low," she said, "but it felt really special to be there representing my country."
In the 2,000-meter race itself, the young USA Eights team finished fourth-2.5 seconds behind China— disappointing for a team that was expected to medal and an experience that Charlotte describes as heartbreaking. Deep disappointment and many tears filled the USA boat. Equally intense for Charlotte was the emotional roller coaster once the Olympic experience had ended. "It was tough to come down," she admitted.
There is the long haul that lies ahead: building towards perfection for the Olympics in 2024. Don't count her out. If you tune in to the Olympics in three years and happen to watch the USA Eights striving for a medal, do not be surprised if they succeed and that one of the team's most consistent and respected performers is Nyack's own Charlotte Buck. Whatever the outcome, if victors are measured not only by medals, but also by heart and perseverance, she is a true champion.