The Colorful History of the Clarkstown Country Club
May 2016 - Issue 233
I had never heard of the Clarkstown Country Club when a friend recently showed me the book LIFE at the Clarkstown Country Club, Nyack 1935 which told the fascinating story of Dr. Pierre Bernard and his so-called country club. The first to introduce yoga and the philosophy of tantra to America, this complex man was seen by some as a charlatan and by others as a pioneer, but millions knew him simply by his dubious tabloid title, Oom the Omnipotent.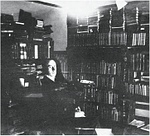 In 1919 Bernard and his wife Blanche De Vries acquired a 72-acre estate in Nyack complete with a 30-room mansion on which to set up his school. Benefactor Anne Vanderbilt footed the bill. The title page of LIFE reads, "A place where the philosopher may dance and the fool be provided with a thinking cap!" One of his followers added, "This is much more than a country club; it is a place where an attempt is made to translate the business of living into art."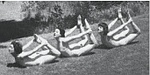 There was talk of free love and the use of drugs intermingled with the teaching of sex-based yoga, Eastern philosophy, music and dance. Scant clothing drew occasional police raids. Rumors flowed throughout the 1930s and '40s but as time went on Bernard became not only a bank president but also an officer of the Nyack Chamber of Commerce.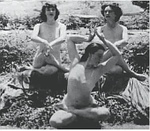 Bernard's early years are shrouded in mystery. Perry Baker, as he was originally named, is believed to have been born in Leon, Iowa in 1875, the son of a barber. When the family moved to Wisconsin he met a Syrian Indian who taught him yoga and Sanskrit. In 1898 he moved to San Francisco, reinventing himself as Dr. Pierre Bernard.
In 1910, now living in New York City, he was briefly imprisoned when two girls claimed he had kidnapped them and taken control over their lives. Eventually, charges were dropped. Once freed, he quickly attracted eccentrics and the rich and famous to his Nyack retreat.
The Clarkstown property eventually covered over 160 acres with thirty-four buildings. LIFE carries a description of its holdings: "The Eagle's Nest estate rolls westward to join the wooded ridges of the Palisades Interstate Parkway. Bordering Eagle's Nest on the north is the Farm with its orchards, truck garden, corn fields and vineyard. The Maxwell Estate embraces pastureland and wooded mountainside sweeping down to…the river. Its residential park encloses two large manor houses, three cottages, and the picturesque old Brick Clubhouse, said to have been built by a French pirate in 1825…Flower gardens outline the brook and the swan pond.
"There are six tennis courts, in and outdoor swimming pools… a miniature zoo (complete with elephants, a lioness, monkeys and other exotic animals), a cabin cruiser for trips on the Hudson and a splendid sports stadium. The Club has its own theatre, its lecture hall and an extensive library (with an outstanding Sanskrit collection and volumes of related material on physiology and medicine). For those interested in astronomy, a powerful telescope has been mounted on the Club House roof; for the physical education department there are two gymnasiums; for indoor sports, billiard and card rooms; for artists, studios, and for children, a play room." There was also a dairy, chicken farm, ice plant and stables. Baseball games were held in the 6,000-seat stadium and a circus took place once a year with its star, Mom, the elephant, whose obituary ran in The New York Times.
Members ranged from high society to actors, scientists, authors, and musicians like Leopold Stokowski. A typewritten sheet was glued to the first page of the copy my friend showed me. It was titled, By One Who Was There. Signed D.H.W., it read, "The place with its teachings was a sort of Shangri-la for philosophers and students, and those who thirsted for reality and truth, understanding and creativity. Great activity was the rule but intelligently guided by a wise leader in the ways of health, balance, creative development and philosophic study."
By the time Bernard died in 1955, interest in the club had waned. The following year his ex-wife sold nineteen acres to the Missionary Training Institute, now Nyack College. For more on Bernard, go to The Great Oom; The Improbable Birth of Yoga in America by Robert Love.