A Conversation with Aidan Quinn
Mar 2008 - Issue 200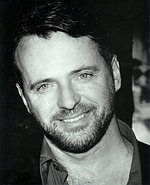 On a freezing January afternoon, a sold out crowd, composed primarily of women, packed the assembly room at the Esplanade to hear Didi Conn interview Actor Aidan Quinn. This was the second of the Palisades Library's talks entitled Palisades People.
After an introduction by Library Board President Mary Ellen Ledwith, the lively Didi, an established actress in her own right, quizzed the handsome unassuming actor on everything from his childhood in Chicago to the whys and wherefores of doing love scenes with many of the country's leading ladies.
Quinn's resume' includes an impressive array of movies as well as stage and television credits. Currently in rehearsal for a new play at The Public Theater entitled, "Conversations in Tusculum," which opened on February 19th, he commented, "I tend to forget how strenuous eight performances a week can be, all for the grand salary of $700."
Quinn candidly admitted to his dread of auditioning. "You have a minute and a half," he said, "to convince the producers that you are right for the part. I have only gotten one job through auditioning and it was one of my first."
"Bury My Heart…" Is Inspiration Didi, who had done her homework by viewing many of the actor's films in the weeks before the interview, discussed a number of his roles. One of his most recent was in Bury My Heart at Wounded Knee, an HBO special. "The book it was based on had a special meaning to me," Quinn related. "I had only a half semester to go in high school but I became disinterested and was ready to drop out. A teacher encouraged me to do a report on the book for the credit I needed. When I heard many years later that a movie was being made of it, I told my agent that he had to find a part in it for me." His moving performance garnered an Emmy Award nomination this year.
In addition to acting, Quinn has expanded into producing with an Irish film, This is My Brother, that he also starred in. A family affair, it was written and directed by his brother Paul and filmed by brother Declan.
Wife Elizabeth Bracco (the sister of Palisadian Lorraine Bracco) and nine-year-old daughter Mia, whom he introduced, were there to lend support.