Discovering Lomar Farms
Mar 2022 - Issue 257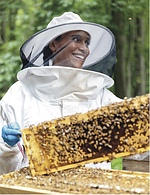 I first came upon Lomar Farms products at the Library's Winterfest. Displayed across a table were beautifully packaged candles, soaps and honey. "They're made right here in Palisades," I was told. I went online and found candles made of beeswax, coconut oil and shea butter, unscented and scented in heavenly fragrances of sandalwood, rose, cedar and amber, honeysuckle and jasmine. Organic soaps came in blood orange bergamot, citrus lavender and thyme garden. I wanted to know more.
I discovered that Yvonna Kopacz-Wright, her husband Brett Wright and daughters Lola, then 11, and Marley 9, moved into a dilapidated 200-year-old farmhouse on five acres along Oak Tree Road in 2013. The year before, they had decided to try a reverse commute, spending weekends at their Harlem brownstone. "We were tired of having to plan our every move," Yvonna relayed, "and we wanted to find a place with good schools for our two girls that didn't cost an arm and a leg, where they would have a more suburban upbringing."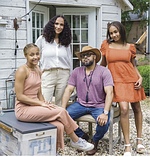 They rented a small place in Piermont for a year, putting the girls in school there. When their riverside place became unlivable after hurricane Sandy, the couple started looking for a house to buy in the area. Marley, now 18 and heading for Brown University this fall, was excited about country living; but sister Lola, now 20 and a student at Vassar College, wasn't thrilled to leave the city. Yvonna, an actress with a continuing role on Law and Order, confesses, "I admit, I came kicking and screaming too, but it was the best move I ever made." They weren't looking for a farmhouse but that's what they found. "I loved that it had a barn for yoga and that it has such a rich history," Yvonna says. It had been the home of Dinny Price who lived there for 48 years and cared for many of the neighborhood children.
Soon after moving in, the couple watched a documentary called More Than Honey about the decline in honeybees and their importance to our ecosystem. They purchased some bees after taking a class on apiaries at Stone Barns in Pocantico Hills. Depending on the season, they now have seven to ten hives in their apiary. "I love candles so I started making some from the beeswax. We gave them to friends; soon we found ourselves with a full-time business making candles and soap and bottling honey. We called it Lomar Farms; its name is derived from our girls names."
Their product line has expanded to beauty and bath, apparel and waxed canvas farm bags. The business got a kick with a mention in People magazine in 2020. Products are sold online, locally at Archive Home in Nyack, at the 9W Market and in 50 retail stores around the country.
"We're passionate about bees. I'm pleased a number of people in the community keep bees," Yvonna comments. "I encourage everyone to support local beekeepers, to not use bee-killing pesticides. Plant bee-friendly plants, convert a portion of your lawn to meadow. If you see a swarm, call us (917-825- 3224) instead of an exterminator."
As for future plans, a lifestyle brand is in the works. "We're thinking of branching out into home décor. I'm a yoga teacher. I'm hoping to convert part of our barn into a community space with a yoga studio this year. Brett is an amazing chef (see some of his past postings on Facebook.) We look forward to hosting farm-to-table community dinners in the future." Stay tuned.