Elaine Landriau, 1928-2017
Posted: Apr 25, 2017
- Web Exclusive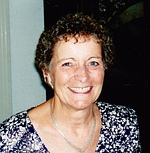 Elaine Landriau died peacefully at home on April 1, 2017 in Lake Oswego, Oregon, where she lived with her daughter Denise and son-in-law Greg. She was 89 years old.
Elaine was born in Manhattan in 1928 to her French-American mother, Blanche, and Swiss father Leon Ledermann. She grew up in Washington Heights and attended French Sunday School downtown before moving to Auburndale, Queens and attending Bayside High School. Elaine was the first member of her family to attend college, and at 20 years old she graduated from Queens College with a B.S. in math.
She married her lifetime partner, Gene Landriau, in 1949. In the early 1950s they moved to Shanks Village—Columbia University's student housing through the GI bill—in Orangeburg, New York. Elaine worked at the Metropolitan Life Company in Manhattan, while Gene pursued his graduate studies at Columbia. A formative highlight of their "carefree" early-married years was a transatlantic voyage and three-month bike tour through Europe, in 1951.
Elaine and Gene left Shanks in 1956 to build their own house in Palisades, New York and begin raising their three children. Elaine was active in the community: a founding Board member and Treasurer of the Palisades Swim Club; a Girl Scout troop leader; and Director of the Summer Recreation Program at the Palisades School.

First and foremost, Elaine was a dedicated mother and wife. An accomplished and resourceful cook, she prepared three meals a day for her family (which always had breakfast and dinner together) and hosted dinners and gatherings throughout her life. She once surprised an extended-family reunion by cooking pancakes for 30 people on her camp stove.
Elaine was a skilled seamstress—carrying on the tradition of her grandmother, mother, and aunts, who had worked in the garment district—and often made clothes for the family. She was also an amateur potter and the go-to family member for any kind of construction project. Following in the footsteps of her father, a watchmaker, she travelled with her own toolbox.
While her children were young, Elaine was a substitute teacher at Nyack Public Schools. In 1975, she received her Masters Degree in Math Education from Teachers College at Columbia University and became a fulltime math teacher at Nyack Junior High and High School. She took particular joy in playful repartee with students, and her thorough and organized approach proved effective with students of all ability levels.
Elaine and Gene retired to Fearrington Village, near Chapel Hill, N.C., in 1990. They led an active social life there and attended classes regularly at the Duke Institute for Learning in Retirement. They took up amateur acting and performed several plays as a duo, including "The Gin Game," by D.L. Coburn.
In 2006, Elaine and Gene moved to Carolina Meadows in Chapel Hill, N.C., where they continued an active lifestyle. They celebrated their 63rd anniversary shortly before Gene died on April 2, 2012. Following complications from a stroke in early 2015, Elaine received Hospice care at home in North Carolina and then in Oregon, where she moved that August. In the last two years of her life, one of her children was always by her side. Denise provided daily care, assisted by several wonderful caregivers. Her sons Gene and Chris visited frequently and called daily when they weren't there.