Ernest S. Quick: Dec 18th, 1937 - April 29th 2021
Dec 2021 - Issue 256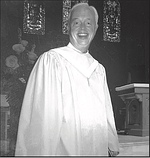 Ernest Quick, long time resident of Palisades, passed away April 29th, 2021. Ernest ("Ernie") moved from Manhattan to Palisades in 1972. Ernie and his long-time partner Richard came to Palisades for the antique auctions at Yonderhill Dwellers for many years prior to becoming residents. In 1972 Ernie and Richard purchased the home directly next door to Yonderhill. After closing its doors for auctions in the mid 90s, Ernie had the opportunity to purchase the iconic building from the estate of William "Tippy" O'Neill in 2000.
After graduating from Rutgers, Ernest served in the United States Army. For many years Ernest acted as the Vice President of American Heritage Magazine. During his time at American Heritage Ernie worked to create Americana Magazine which offered reproductions of popular Americana pieces. During this time Ernie met and worked with artists and influential people such as Norman Rockwell and Robert Bishop.
Ernest had too many stories in his life to fit any single place but he loved to share the time he dined with Eleanor Roosevelt, ending up in her swimming pool wearing a pair of "Franklin's" old swim trunks. Ernest was a devout Presbyterian and the Presbyterian Church in Palisades was a very important part of his life. Ernest acted as an ordained elder and an active member of the choir for many years up until the time of his death. Survived by Richard Benizio, his married partner, Ernie will be remembered as an active part of his community and passionate antique collector.