Faye Fleming: An Artist Of Her Own
Mar 2018 - Issue 240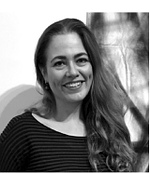 When Faye Fleming drove down Washington Spring Road that day six years ago, she knew she'd found home. A perfect place, she said, to garden, raise chickens and write novels. This is something coming from a woman who has lived and worked all over the globe in the fast paced, glamorous world of art.
Born in London, raised in Singapore, Faye graduated Cambridge University with degrees in Modern History. She went on to earn a master's degree in Contemporary Art Theory through Sotheby's in London. Her career began in 1999 with the London-based Timothy Taylor Gallery as an artist liaison, curating and installing exhibits. The gallery, specializing in established artists, introduced her to Lucian Freud, Alex Katz and Kiki Smith, among many others. Sean Scully, now of Palisades, was one of the first artists the gallery represented.
In 2006 Faye moved to Geneva, Switzerland and opened her own gallery, Faye Fleming and Partner, formerly Arquebuse. Demonstrating her eye for talent, she mounted the first two solo shows of Lynette Yiadom-Boakye who was then a few years out of school. Ms. Yiadom-Boakye has since gone on to international acclaim. Other artists Faye exhibited were Charles Avery, Tim Braden, Athanasios Argianas and Ruth Claxton, to name a few.
She circulated in the highly competitive world of art fairs, a regular at the Zoo Art Fair in London, the Armory Show in New York City, Artissima in Turin, Brussels Art Fair, VOLTA NY in NYC and NADA in Miami. Her work required constant traveling, keeping her ear to the ground, watching artists develop and, then when they were ready, offering them a show.
In 2010, she and her husband at the time moved to Brooklyn for his work. As much as she loved the cultural life of New York, the city itself never appealed to her. She was always getting lost. It was the grid; there is no romance in the grid. Put her down in a medieval town anywhere in Europe and she can find her way.
And so Palisades, where she has a more subdued lifestyle but a much more joyful sense of community. After working with emerging artists her entire professional life, she is now taking on herself.
Writing has been Faye's ambition since childhood. In her professional life, she wrote numerous essays, press releases, academic and historical articles, even poetry, but with narrative fiction, she kept finding she had nothing to say. Having lived through some difficult times such as life can bring, she now finds the door opened and sees that she can "breathe under water." Her first novel, though unpublished, received critical encouragement and she is at work on her second.
Her first major landscaping project was for a neighbor in Palisades who thought at first that his house needed to be reoriented. But Faye showed him how the property could be sculpted to fit the house. She rerouted the driveway, dug out a courtyard and designed the gardens so that they change as you walk through them. Even though they hadn't known each other very long and Faye had no professional experience in this kind of work, the neighbor decided to work with her, based in large part on what he'd seen her do in her own backyard - manipulated space romantically, sculpturally - curating it, as it were.
I stroll through the neighbor's gardens to experience for myself what that means. It's dead of winter, a light rain falling, fountains wrapped up and beds dormant. Even so, it's evident that the schema is very like that of a medieval village, with winding alleyways leading into open squares, walled gardens and hidden places where one can sit under the trees. Human scale, in communion with the landscape.
Faye still works with Sean Scully a few days a week, keeping her hand in, curating and organizing his exhibits. And the chickens? She will get in a new flock this spring after the demise of her chicken, Eggy Guggenheim.