Frances Foote Breer: 1927-2021
Dec 2021 - Issue 256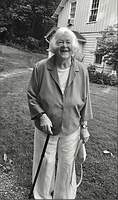 A Fixture in the Palisades Community for over 60 Years
Franny, Fra, Fran, Frances, Mom, Grandma, Gummy.
No matter how you knew her, you knew her.
New England stock, Vassar graduate, Parisian ex-pat.
Photographer, Social Worker, Art Scene lifer.
Sunday puzzler, avid reader, world traveler.
Violinist, artist, Snedens tennis champion.
Mother of 4, grandmother of 3, friend of many.
Simply one of a kind.
LOVED, MISSED, CELEBRATED