FRANK PAWLOWSKI'S SURVIVAL GUIDE
Dec 2018 - Issue 243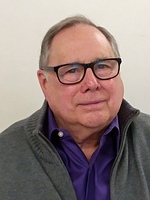 It may be a bit early for New Year resolutions but here is one you might want to consider putting at the top of your list. It promises to reduce stress, improve concentration, enhance clarity of thought and help you become more positive. What could be better in these perilous times?
Long-time Palisadian Frank Pawlowski found the solution for all of the above when he started practicing a technique known as Jyoti meditation, which translates to inner light, back in 1972. "I found I was more joyful and peaceful and could give and receive love more freely," he comments. Frank cites The Relaxation Response, a book written in 1975 by Dr. Herbert Benson, founder of Harvard's Mind/Body Medical Institute, which discusses the scientific benefits of relaxation to reduce stress. Dr. Benson found that post-operative pain was less and recovery quicker in patients who took part in preoperative meditation.
Frank Pawlowski and his wife Lorraine moved to Palisades in 1966 with three kids in tow. He came to the area because his sister Felicia Geraldi was living here. Frank grew up in New York City and, after a stint in the Navy, got a degree in studio arts and art history from Brooklyn College. "I realized paying the family bills with an arts degree would be a problem so I went back to school and got an MBA in public accounting and then a doctoral degree at Columbia Teachers College in educational administration and supervision." For fifteen years he worked for the South Orangetown School District as an Assistant Superintendent for Business and Finance. He also worked at Iona College as an adjunct professor teaching educational business and finance.
Frank's love of art never left him and from time to time he found time to paint. "I prefer to paint people," he says. He has had a show at the Corner Frame Shop Gallery in Nyack and next April he will be exhibiting his acrylics there again.
We asked Frank how he became interested in meditation. He replied, "I was going through a difficult period in 1972 and found my way to a meditative group in the city run by Science of Spirituality." From 1997 to 2013 he worked for the organization as an administrator. He also started giving workshops on meditating in 1997 throughout the metropolitan New York area. This past fall he held several workshops at the Palisades Library with the final one scheduled for December 17th."I have found hurry and worry ages us. Meditation frees the spirit. You become able to solve problems better. Your body heals and your mind gets stronger," Frank relates.
We asked him to share how to go about meditating. He related the following:
Find a quiet place where you won't be disturbed. Be prepared to sit in a comfortable position for about twenty minutes.
Relax. Still the body and the mind. Close your eyes.
Pull your energies back from the world to the third eye, which is located between your eyebrows and is the seat of the soul.
Gaze into darkness. Start repeating a mantra, a word or phrase, to yourself so that the mind, which is the hardest to control, has something to do while you look inside.
If you are interested in giving meditation a try come to Frank's workshop on Monday night at 7:00 pm on December 17 at the Palisades Library or consider joining a small group that comes together every Saturday at the Quaker Meeting House at 60 Leber Road in Blauvelt from 10:00 to 11:30 am. Forty minutes are spent on meditation. Then there are readings and a video on the lives of saints.
"Meditation is the most important thing in my life," Frank says then quickly adds, "and my wife Loraine. We have been married sixty years this year."