George L. Kopac
May 2022 - Issue 258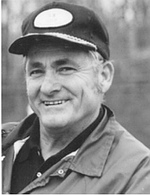 George L. Kopac passed away peacefully at his home on March 10, 2022, surrounded by his family. George was born on May 12, 1933 in Piermont, NY to Peter and Josephina Kopac of Slovakia. As a child in a family of eleven children, George quickly learned the values of hard work and sharing. He attended local schools and worked part time as a caddy at the Rockland Country Club. It was here that George discovered his life-long passion for golf. During high school, George worked at the 9W Golf driving range in Palisades, NY where he dreamed of one day owning the business
In 1950, George answered the call of duty and joined the United States Navy. He served aboard the U.S.S. Columbus CA74 until 1954. Upon his return to civilian life, George married his high school sweetheart, Gertrude Piroso, started a family, and built his dream home in Tappan, NY.
Although George worked for Orange & Rockland Utilities, he continued to work part time at the 9W Golf driving range. Through hard work and personal sacrifice, he accomplished his dream of becoming the owner of the range in1967. Throughout his life, George played an active role in the local community. Through generous donations, he supported various organizations as well as local schools and churches.
Despite all his success, George never lost sight of his humble beginnings. If you were to ask anyone who knew him, they would all agree that he was the most kind, generous and selfless man they ever knew.
George is survived by the love of his life, his wife Gertrude; his cherished children, Wendy (James) Stewart, Kathyanne (Edward) Cook, George (Sandra) Kopac, Michael (Lisa) Kopac and Diane Kopac (Gabriel Patzuk); twelve adored grandchildren and five great grandchildren.