The House that Palisades Restored: A Love Story
May 2018 - Issue 241
It started out as a quest to find a new home in the country. Hiroko and Keizo Tsukada were living in a condo in Jersey City with their three-year-old retired Greyhound racing dog, Gavin. When Gavin broke an ankle and had to be carried up and down flights of stairs, the idea of a home with a backyard was alluring.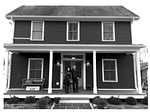 For eight months, they searched the internet for properties within a 20 minute radius of New York City ports of entry in New Jersey, Rockland and Westchester. One house that always popped up (and they ignored) was a sad little grey house in need of much work at 639 Oak Tree Road. That is until the day they looked at a home in Tappan and drove by the house. They continued their drive through Palisades and were moved by the beautiful historic homes on Closter Road off Route 9W. Keizo said to Hiroko, "If we took the Oak Tree Road house, I think we can make it as beautiful as those Colonial homes."
Known as the Frank Post House, it is one of the row of six homes built by the children of Abraham Post in 1870. The last owner, Eunice Hagan, was born in the house in 1916 and lived there her entire life. Eunice, the last of the of the Molly Sneden descendants living in Palisades, passed away at 97 years old in 2014.
While someone else may have considered tearing it down, the Tsukada's bought the house with the dream of owning a beautiful historic home after consultations with its executor, Tom O'Connell of Palisades. On their frequent neighborhood walks with Gavin, they saw a Margaret Fowler Architect sign at the renovated Manse across from the Palisades Presbyterian Church and hired her.
On another walk with Gavin, they met contractor Henry Ottley in his front yard on Oak Tree Road and hired him after learning he did the Palisades Library addition. They added electrician Dorian Tunell, landscaper Rich Rasmussen and Tobar Excavating all from Oak Tree Road, and Eddie Ewald of Arbor Hill to their restoration team. Keizo, a former furniture maker, had personally renovated a brownstone in Philadelphia from top to bottom so he possessed the experience for this restoration challenge.
Prepared and excited for their Historic Areas Board of Review (HABR) meeting, their excitement turned to panic. Waiting their turn, they sat in the back of the room as Palisades residents protested in full force against the size of a proposed 12,000 square foot house. They listened to the passionate testimonies of the community directed towards protecting the quality of the historic district. Unsure if the crowd would be against their project, they made their presentation. To their great relief, there were no objections and HABR approved their plans.
They began by clearing the property, removing the added screened-in front porch and reconfiguring some of the internal space, but retaining the same footprint. Moldings were matched and floors saved where possible. New Lincoln windows with wood frames were installed, rotted wood replaced, and the entire home was insulated and fitted with new electric and plumbing. Keizo got his wife in on the action too - it was common to see her painting the siding laid out on saw horses in the front yard!
Saving an old house is never without great sacrifice. The Tsukadas lived in the house throughout the entire messy renovation, moving their bed from room to room and living without a kitchen or bathroom. They took daily showers at the Retro Fitness Gym and made trips to the laundromat on Route 303 until their laundry room was complete.
In July, marking three years since the purchase of the house, the Tsukadas and their Palisades team have transformed it into a bright airy home filled with Keizo's furniture. In fact, on May 20 the Tsukadas will be granted the 2018 Rockland County Executive's Historic Preservation Merit Award: Restoration Award at the Historical Society of Rockland County. Lucky for Palisades the Tsukadas fell in love with this Post Row home and recognized its beauty and historical significance. Thank you Hiroko and Keizo, and welcome to Post Row.