In Memoriam: Johanna Hause Lo
Oct 2016 - Issue 234
Johanna Lo, 78, of Palisades, N.Y., passed away unexpectedly on Friday, May 13, from injuries sustained in an automobile accident.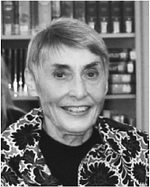 Born in Angola, Indiana on December 29, 1937, she was a daughter of the late Ralph and Dolores (Kirchner) Hause. She was a graduate of Miami University, Oxford, Ohio and her first career was in graphic design and publishing. She married her husband, Dennis, in 1964.
Johanna and Dennis purchased their home on Indian Hill Lane in 1970 where they raised their two daughters Vanessa and Hillary. Johanna got a taste for library work when she served on the Palisades Free Library Board of Trustees in the 1970s.
In 1977 Johanna, Jane Bernick, and Lois McCoy started the local newsletter, 10964. Jane recalls, "When we started 10964, Lois did the writing, I got the ads, and Johanna did the layout - which was done at her house. It was an instant success. That was also about the time that Johanna started a Chinese cooking class at her house. It was terrific and I still make her egg rolls."
Before coming to the Palisades Library Johanna was the Head of Circulation at the Nyack Library. Former Nyack Library Director James Mahoney remembers her as "truly a gracious, competent and dedicated individual. She was working at the Nyack Library when I arrived in 1988, and all told was employed there for ten years. I was so sorry to have her leave. We shared a love of church music (her sister was also a composer) and she had a beautiful singing voice."
In 1995 she was hired at Palisades as the full-time librarian. Johanna took great pride in her work and for many years volunteered at the Tappan Zee Thrift Shop on the library's behalf. She was an avid reader and the patrons relied on her knowledge of the latest fiction, mysteries, and political biographies. Library Director Maria Gagliardi says "Johanna had a wry, wicked sense of humor that could take you by surprise because she seemed so quiet and unassuming. I will miss her good cheer, her can-do attitude, and her great sense of style, which can only be described as thrift-shop chic." Jerry Kuntz at the Ramapo Catskill Library System recalls Johanna, "was always among the quickest to learn the arcane insand- outs of our various library system software quirks, and was always gracious and patient." She retired from the library in 2014.
Johanna was a long time member of the Palisades Presbyterian Church. She and Dennis regularly participated in the Midnight Run outings to bring food and clothing to the homeless in New York City. Choir Director Michael Shapiro recalls "Johanna was a faithful member of the choir for many years and she was not only a fine singer but a superb musician who helped other members of the choir by her ability to blend and to understand the music she was performing. Her sister, Beverly McLarry, is a well-known composer of church music and Johanna shared Beverly's music with the choir on numerous occasions. We have added a number of her pieces to our repertoire."
Surviving are her husband of 52 years, Dennis Lo; daughters Vanessa Quinn of Tucson, Arizona and Hillary Bishop of Royal Oaks, Michigan; grandchildren Nolan Quinn, Maya Bishop, Bryan Quinn; sister Beverly McLarry of Oklahoma City, Oklahoma; one niece and one nephew.