Jeanne DiMeglio, A Life Rooted in Palisades
Dec 2016 - Issue 235
While people and businesses come and go in Palisades, Jeanne DiMeglio, the owner of Floral Expressions, has lived her entire life in the same house on Iroquois Avenue. To trace the roots of her local flower business, one has to go back in time to Ellis Island. Her four grandparents, journeying to America at young ages from different parts of the world, would eventually cross paths and end up building a flower business that would span three generations.
Her paternal grandparents were from the island of Ischia in Italy. Her grandfather Michael DiMeglio spent many years traveling back and forth working in the granite mines in Virginia. It was during one trip he was sent the message that an arranged marriage was planned and he was to meet a young woman, Emilia, at Ellis Island where they were married on the spot. They settled on Dyckman Street and opened a butcher shop that was well known for its quality meats, fruits and vegetables.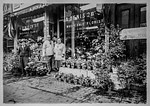 Her maternal grandmother's family emigrated from Germany while her grandfather Louis Denis came alone from Greece at the age of eleven. Reunited with his brother Anthony, Louis gave up his short-lived vegetable pushcart job and joined his brother's flower business on West 28th Street and Sixth Avenue. Established in 1928, A. Denis Florist was a landmark florist in the burgeoning flower district.
The two families intersected when Angelo DiMeglio (Jeanne's father), making a delivery of a bag of oranges to an apartment, was smitten with the daughter (Jeanette Denis) who opened the door. They married and shortly after in 1955 Angelo joined A. Denis working side by side with his mother-in-law.
Jeanne's parents loved to take drives into the "country" up Route 9W to visit relatives. They discovered the new Palisades Gardens development and in 1959 they settled into Palisades, in their new home on Iroquois Avenue. Jeanne was six months old.
Growing up with her four siblings, Jeanne loved her childhood in Palisades, going to the brick elementary school on Oak Tree Road for grades K-3, then moving through the school system and graduating from Tappan Zee High School in 1977. She began working at fourteen at local pizza and coffee shops and hasn't stopped since.
In 1980, after over fifty years, A. Denis closed its doors. At the time Jeanne was working at Prentice Hall in accounts receivable. Her father said "Hey, do you want to help me move some boxes from downtown to uptown," which was a round-about way of saying; do you want to join me in the flower business?
Together, they opened up Dale Florist in Riverdale. They had a successful business, retaining many of the customers and accounts that they nurtured on West 28th Street. It was a real family affair with the brothers and sisters pitching in during busy times and holidays, making flower arrangements and deliveries. However, after ten years, with the rent rising, they decided to close the shop without a plan for the future. After a year of respite, in 1992 they were itchy to open another flower shop, this time closer to home, and found a prime location on Route 303 and Oak Tree Road. Floral Expressions flourished as they gained popularity in the community, with business stretching as far as Congers and Westwood, New Jersey.
In 2001, as the world reeled in tragedy, Jeanne's family had their own personal sadness when both her father and maternal grandmother, who fondly worked together with flowers for almost forty years, passed away. Then in 2008 Jeanne felt first hand the effect of the economic crisis with her floral business dropping dramatically, not to mention competition with big box stores for flowers. Her brother Michael, a friend of Eddie Ewald of Arbor Hill in Sparkill, knew there was a big empty refrigerated flower box at Eddie's nursery. With her rent rising and business dropping, the time to downsize was right so she set up shop in Arbor Hill in 2009. It has proven to be a good match with her fresh flowers complementing Eddie's landscaping and nursery services, which are attractive to each other's customers.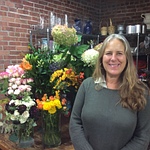 Along with loving the art of flower arranging, she really enjoys providing the gift of flowers to her community. For over thirty years, she's enjoyed generations of repeat customers who order flowers for all life-cycles: births, graduations, weddings, anniversaries and sadly, funerals. She carries her phone as a pager because in emergency situations like someone just falling in love or a baby being born, people order flowers at all hours. Since she develops a relationship with her customers, she makes sure they are happy with their arrangements, whether classic flowers or heirloom varieties. She has a Flower of the Month service in which she will work with her clients to identify colors, style, favorite varieties and seasonal arrangements in any dollar amount using her vases or the client's.
When not at the shop, she paints. Inspired by a book she found in her basement about her grandmother's village of Heilbronn, Germany, although not a trained artist, she started replicating the village scenes in the book. Now more seasoned, she enjoys painting whatever the spirit moves her. As with working with hues and textures of flowers, she finds painting is another way to live with color.
You may see her out and about making deliveries in her white Floral Expressions van, but when in the shop at Arbor Hill she always welcomes visitors. Jeanne can be reached and flowers ordered through her website, www.floralexpressionsinc.net