Jonathan Lawrence
Oct 2022 - Issue 259
Jonathan Lawrence Jr., born in 1759, played an important part here during the Revolutionary War. His father, Jonathan Lawrence Sr., was a businessman in New York City. His grandfather, Jonathan Lawrence the Elder Senior, had bought the Big House on Rt 9W in 1747 from Henry Ludlow who had built it circa 1736.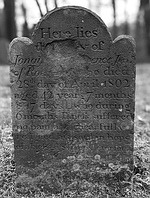 In 1775 Jonathan's father was appointed one of three commissioners to help build a new fort on the Hudson, Fort Constitution. Jonathan Jr. and his parents were there in May 1776 when his mother was accused of selling tea at an illegal price. Later that year Jonathan Jr. was living here with his grandfather and helping to guard the Hudson, which was threatened by British warships coming up from New York. He was back at Fort Constitution in December, serving as a "clerk of the cheque," although he was just seventeen.
In March 1777, he enlisted in Colonel Malcom's regiment as a Second Lieutenant. He spent two months at Valley Forge with the Continental Army and fought in the Battle of Monmouth on his way north. During the summer of 1778, he was promoted to First Lieutenant and was acting as Assistant Adjutant General to the regiment at Fort Clinton, overlooking the Hudson at Bear Mountain.
In the spring of 1779 Malcom's regiment was merged with another and Jonathan Lawrence lost his army position. He went home to the Big House, now owned by his Uncle Nathaniel (his grandfather had died in 1777), and was soon appointed a captain in the militia, troops made up of local men who signed on for six months at a time.
One of Jonathan Jr.'s duties was to gather information about enemy troops, which was then passed on to George Washington. Washington mentioned him several times in dispatches, calling him sensible and discreet. On July 21, 1780, Captain Lawrence captured a famous British spy named James Moody, near Englewood.
In the fall of 1780 soldiers from the Corps of Sappers and Miners were here building a blockhouse, the remains of which could still be seen on Woods Road until recently. On June 19, 1781, Washington issued an order appointing Jonathan Lawrence, Esq., to the rank of Captain in the Corps of Sappers and Miners. Lawrence's service in the Corps was short. On August 28, 1782 he wrote asking permission to retire into the country for reasons of health. An accompanying certificate, signed by the Hospital Surgeon at West Point, states; "Captain Lawrence of the Corps of Sappers and Miners from indisposition is rendered unfit for the fatigue of Military duty. His complaints of the breast are of such an alarming nature as require the strictest and earliest attentions to remove."
Jonathan Lawrence went back to the Big House to recover and to resume a normal life. Although fighting had ceased, looting by both sides had impoverished the countryside. On November 11, 1783, Lawrence wrote to George Washington asking for help. Washington replied within a few days, saying that unfortunately he was unable to help because Jonathan Lawrence had resigned from the army before the end of the war.
In 1784 Jonathan, then twenty-four years old, married Jennette Neal, seventeen. In the next six years they had three children, two boys and a girl. In 1788 Jonathan was awarded 200 acres of land in Ohio, based on the fact that he had not resigned from Col. Malcom's regiment, but had been found supernumerary. He sold the land; the money must have been welcome. In 1790 Jennette died; her sandstone tombstone is in the Palisades Cemetery.
In this desperate situation, Jonathan launched a further appeal for benefits as a veteran, which seems to have been successful. In 1794, aged 34, he married Mary Mann, 31. Mary was the daughter of his near neighbor George Mann, whose house, built in 1784, still exists. The same year Jonathan bought back the Big House, which had been sold out of the family by a relative in 1792. He and Mary had three more children and we hope lived in the Big House in peace and happiness, at least for a few years. In 1802 Jonathan Lawrence Jr. died, at the age of forty-two, probably of tuberculosis, the disease with which he had struggled with for so many years. His tombstone and his second wife Mary's are both in the Palisades Cemetery.
In the course of doing the research supplying the information for this presentation, Alice Haagensen, local historian, developed a great admiration for her subject. At the end of an article that she wrote long ago on Jonathan Lawrence Jr., she said, "This gallant young man, admired and respected by all his officers, from Washington down, has been forgotten in this village that meant so much to him."