Lee Ann Guttman
Mar 2017 - Issue 236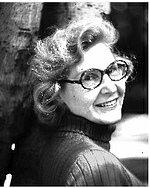 On November 8, 2016, long-time Palisades resident Lee Ann Guttman (nee Sterling) passed away peacefully at her home at 10 Indian Hill Lane under the care of her family and Hospice of Rockland. Born in Manhattan on March 26, 1923, her passing marks the end of an era in the history of Palisades. Lee was the last surviving resident among the original group of a dozen families that built and named Indian Hill Lane and Horne Tooke Road in 1955.
As was the case with Hickory Hill in Tappan, the land upon which Indian Hill Lane now stands was purchased cooperatively by a group of former residents of Shanks Village, the World War II Army Base in Orangeburg that was subsequently converted into inexpensive housing for returning WWII veterans and their families. Upon the completion of Indian Hill Lane and Horne Took Road, the residents then deeded the roads over to the Town of Orangetown for the sum of $1.00, making them public thoroughfares so that the Town would be responsible for maintaining them.
Lee worked for many years as a Teacher's Aide in the South Orangetown School District. She also spent 30 years as a volunteer at The Tappan Zee Thrift Shop in Piermont, New York, in support of the Palisades Library, of which she was a devoted patron. Lee was an avid reader, enjoyed films from the 1930s and 1940s and was fond of singing, particularly songs from The American Songbook.
Lee was predeceased by her husband of 54 years, Paul Dennis Guttman (1920-2005), as well as by her twin brother Sheldon. She is survived by her grandchildren, Benjamin Kramer, Matthew Kramer, Asher Kramer, Peter Bocian and Rebecca Bocian.