Loren Plotkin – Lawyer for the A-List
May 2016 - Issue 233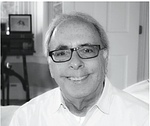 What can be better than being successful at something you love? That's the happy fate of entertainment lawyer Loren Plotkin, managing partner for Levin Plotkin & Menin, a New York based law firm dealing exclusively with artists and the people who do business with artists.
"I love the clients," says Plotkin, "I love their ideas. Artists and schizophrenics have one thing in common: they both see things that aren't there. I love working with people who see things that aren't there."
The firm's clients are musicians, writers, actors, directors, Broadway producers, and A-list celebrities. A small sampling of shows Plotkin's firm has helped shepherd to the stage includes RENT, La Cage Aux Folles, Avenue Q, West Side Story, Fela, Spider Man, The Drowsy Chaperone, In the Heights, American In Paris, and Hamilton. A good example of how creatively Plotkin works with his clients is the fascinating career of Isabella Rossellini. Plotkin represents her for all her theater, book, fragrance, cosmetic, and film projects.
The thoughtful guidance and support Plotkin gives his clients helps explain why he has been named a New York Super Lawyer in the entertainment law category every year since 2006.
Plotkin didn't start out in the entertainment industry. In the early 1970s he worked somewhat unhappily in banking, real estate and securities law. Friend and producer Barry Brown asked him if he could do legal arrangements for a revival of the musical Gypsy. In a 2010 interview for Super Lawyer magazine Plotkin said, "I was a neophyte in the theater, but I wasn't a neophyte lawyer." He crafted innovative structures that the show's producers liked, and he knew from that first job he wanted to spend his life helping artists.
Born and raised in Ditmars Park, Plotkin couldn't wait to get out of Brooklyn and move to "the shining city on the hill." The son of a garment manufacturer and a bookkeeper, Plotkin discovered early that smarts could be his ticket out. "It was a given that I would go to college," he says, "I would become a professional man – not that they (his parents) had any idea what that was." He went to SUNY Binghampton at 16 - "too young," he says now. He studied law at St. John's University and then joined the Army reserves. He drove a truck at Fort Dix where his sergeant would brag about his lawyer driver "coffee boy."
After the reserves he clerked for an appellate judge back in New York, took evening classes in film production at New York University, made a few short films, and represented Julie Roy, the plaintiff in one of the first cases involving a psychiatric patient abused in treatment. He didn't like the pressure of litigation, however, and joined a general practice law firm until Barry Brown's call led him to create a new entertainment division. Another firm with an impressive roster of clients in entertainment beckoned, and it eventually became Levine Plotkin & Menin.
Plotkin takes great pride in the hands-on attention he gives his clients. He relishes working on projects from inception to fruition, a process that can take years, and one that often results in close friendships. For example, not only is Barry Brown a good friend and client, he introduced him to Carol Baxter, the beautiful dancer who became Plotkin's wife in 1990. When the couple was house hunting Plotkin followed the advice of two other friends and clients, David Shire and Didi Conn, to look in Palisades. He went back to Carol with tales of finding "Brigadoon." They moved here with their two daughters in 1998.
So Plotkin has indeed become the professional man his parents hoped he would be. In fact, he's created a unique niche for himself in one of the entertainment capitols of the world where he can help his clients realize the "things that aren't there."