Lydia Lawrence Ratcliff: October 12, 1933 – February 14, 2018
May 2018 - Issue 241
Lydia Ratcliff, by all standards, was a driven woman, well ahead of her time. Born and raised in the Captain John's House in Snedens by her parents John D. Ratcliff and Marie-Françoise Tonetti, Lydia's first exposure to farm animals was attending to several goats owned by her mother. Graduating from the Palisades Grammar School, Lydia attended Nyack High School for two years. Thereafter, she enrolled at the newly founded Putney School, an alternative, co-educational school in Putney, Vermont. Early educational programs at Putney not only included core subjects, but also required students to actively participate in running the farm owned by the school. It was this early exposure to farming that eventually led Lydia to her second career.
After graduation from Putney, Lydia was accepted at Swarthmore College where she was a student for two years before transferring to the Sorbonne in Paris, France as her parents and siblings were living in Italy at the time. Returning to the United States after one year, Lydia enrolled at the University of North Carolina where she graduated Phi Beta Kappa with a degree in English.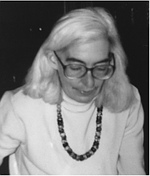 Following in her father's writing footsteps, Lydia was hired as an Editorial Researcher in the Business Department at Time magazine. Among her notable achievements were interviews with W. C. Handy (composer of The St. Louis Blues,) Patrice Lumumba, Congolese Prime Minister and Sally Victor, a noted hat designer. After stints as a freelance writer, and as a foreign correspondent for Paris-based Continent Magazine, Lydia was approached by Sylvia Porter, a renowned financial columnist, to work for her as a ghostwriter on a weekly syndicated financial column. For more than five years, Lydia worked for Ms. Porter. During that period she and Ms. Porter collaborated on writing Sylvia Porter's Money Book, which became an instant best seller.
With royalty money from the book, Lydia bought a dilapidated 200 plus acre farm in Andover, Vermont. Although there was no running water, no bathroom (outhouse only) and no electricity, this didn't deter her in the least. With a gifted and artistic eye, she carefully began rebuilding the house bit by bit. Engaging local craftsmen, huge hand-hewn beams were soon exposed in the living room. A well was driven and a large soapstone sink was mounted in the kitchen. Bathrooms were installed with Vermont-quarried marble sinks, vanities and tubs. A massive fireplace was built as the centerpiece of the living room. When the house was finally completed, it was an extraordinary transformation.
As Lydia's relationship with Sylvia Porter dwindled, Lydia began to change career paths into farming. Almost without realizing it, she was a pioneer in the farmto- table movement. Recognizing that farming was a dying industry and farmers were being forced to sell their livestock at low auction prices, she founded a co-op and organized local farmers to raise their animals humanely. Lydia then got on the phone and started calling all the most prominent restaurants throughout the northeast. Before long, she was delivering full carcasses of lamb, goats, veal calves, chickens and ducks to these exclusive establishments while conversing fluently in French or Italian with the world-renowned chefs.
The remainder of her remarkable life was spent doing exactly what she loved to do. As one of the very few remaining active farms in southern Vermont, Lydia structured her estate to ensure that Love Joy Brook Farm will remain forever as farm land and preferably an active farm.
She often commented that her symphony was the bleating of the sheep, cows and goats. To her last breath, there was enthusiasm mixed with an unbending determination.