Maria Gagliardi: Innnovator, Organizer, Librarian
Dec 2021 - Issue 256
More than a decade ago, when Maria Gagliardi was hired to be Director of the Palisades Free Library, she had already fallen in love with the place, "the building, the staff, the community, the whole place" she recalls. She had previously served in Palisades as part-time Circulation Clerk, but at the time of her hiring in 2008, Gagliardi was Head of Acquisitions and Technical Services at the much larger White Plains Library. Working in a small, community-based library allowed her to be involved in all aspects of the library's work—from acquisitions to children's programming to community engagement —in addition to managing a staff that currently numbers three full-time and seven part-time employees.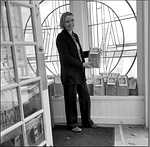 At its inception in 1891, the library was the vision of Ms. Lydia Lawrence, who loved books and was known to often encourage neighbors and friends to read. Beginning with just 663 titles, the library occupied a house owned by the Lawrence family. In a rare venture for such a small village, the library formed an Association with its own constitution and by-laws. Lydia Lawrence Hyde died in 1943 and the following year the library moved into the Old School (currently the Palisades Community Center). Housed in a public school, the library then became a free public library, moving to its current location in 1953.
The internet and discount booksellers like Amazon have brought dramatic changes to libraries, trends only intensified by the global pandemic. In the beginning, no one under the age of twelve was allowed entry; now, child literacy is critical to the library's mission and one of its most popular programming elements. And while adult level books are still important resources at the library, juvenile fiction (including picture books) account for more than one in five loans. Digital content — ebooks, electronic audiobooks, streaming movies and TV — make up 20% of total circulation. There are just under 1,000 registered card holders—85% adult; 15% juvenile.
When Gagliardi began serving as Director, the library had an adult-centered agenda, but as more young families moved into the village, programming for youth has taken on greater importance and youth literacy is seen as a core emphasis. She is quick to remind, "in a small community, the library remains a gathering place for individuals and families." According to its mission statement, as adopted by the library's Board of Trustees in 2014, "The Palisades Free Library enjoys a unique relationship with the hamlet of Palisades as a vibrant cultural landmark. The library's mission is to promote, support and sustain this relationship through its work as a public resource for education, information and enlightenment."
Upon entering the building, one is immediately struck by the comfortable and inviting feel of being surrounded by books. Words like "cozy" and "warm and welcoming" that may seem trite in other settings, perfectly describe the environment at the Palisades library. Youth Services Librarian Kate Foster exclaims, "first time visitors fall in love with the building."
The global pandemic has spurred the pace of change. The staff had to adapt to a period of more than 18 months when the public could not enter the building. All programming was done virtually. And while this has caused some hardships, it has also opened up possibilities as the innovative staff developed new ways of working: small discussion groups and classes gathered on-line; presenters giving lectures and workshops remotely—expanding the number of offerings and reducing travel costs; hands-on activities from crafts to composting became popular with intergenerational audiences. During the summer months, many programs took place outdoors.
Families can sign up for "Take and Make Crafts," instruction packets for projects done at home. Wreath making for teens and tweens, undertaken in partnership with Cornell Cooperative Extension is but one activity leading up to Winterfest in the library's parking lot on Saturday, December 4. The fourth edition of the library's popular cookbook, Pots and Pans in Palisades, featuring recipes from local home cooks, will also be available. These activities represent creative ways of combining fund raising with community engagement. The library has partnered with organizations like Keep Rockland Beautiful that allow teens to participate in environmental projects like composting or the Rail Trail Clean-up and apply the hours they work toward National Honor Society credit.
Principal funding for the library comes from the Town of Orangetown where Palisades falls in the district that includes libraries in Tappan, Orangeburg, Blauvelt and Piermont. Negotiations are ongoing in terms of shifting the boundaries and administrative structure for these individual libraries. Cost savings that accompany economies of scale are weighed against the character of the individual locations. But, Gagliardi says, finances are not the most pressing issue. "People's attention and their ability to participate is our most precious resource." She sees her staff's responsibility as "developing programs that provide incentive and opportunity for people to continue to gather — both online and in the building."
Emily Nevill, Adult Services Librarian, joined the staff at the height of the pandemic from the technical services department at the Salvation Army College for Officer Training in Suffern. She sought a move from behind-the-scenes to a position where she engages the public. She likes the change… and the challenge. "There was no roadmap for dealing with the pandemic. We could build things from scratch. That gave us a lot of opportunity to be creative. We spent some time fumbling in the dark, but people have been really responsive."
Like Gagliardi, Neville found the intimate, conversational atmosphere at the Palisades Library stimulated her own intellectual growth and curiosity, qualities she seeks to encourage in the library's patrons. "The pandemic provided an opportunity to think about 'books' beyond their physical aspect. We have an opportunity to broaden the understanding of what a library can mean." The future is unpredictable, Neville says, "so we must hold the future lightly and engage everyone's curiosity."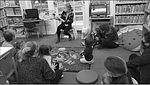 Kate Foster has held many children's programs outdoors. "Storytime Fun" was especially popular and has recently moved indoors, surrounded by books and toys in the library's children's room, with strict Covid guidelines. The setting is intentional. Having places for families to gather and to "play together" is a vital part of learning, Foster says. "For young children, Zoom is no substitute for in-person activity. Small children need the interactivity."
But virtual gatherings also have merit. The library's Teen Advisory Board meets on Zoom for brainstorming sessions and to offer feedback as new programs are offered. Trying new things keeps the library engaged and engaging. Inviting internationally known graphic novelist Sophie Escabasse to interface with Palisades' teens is one example of the premise that while the library is a venerable institution, community engagement as undertaken by Director Maria Gagliardi and her staff contains a host of innovative wrinkles that promote both literacy and curiosity among all who call Palisades home.