In Memoriam: Betty Batchelder
May 2017 - Issue 237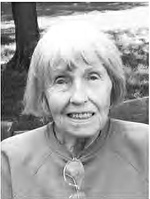 Palisadian Betty Batchelder passed away on January 27, 2017 after a fall at home. She spent her last few days at peace in the Joe Raso Hospice Center in New City, New York. Betty was born Grace Elizabeth Batchelder in 1926 and was named after her mother. She grew up in Orange, New Jersey, but at the age of 11 her father died suddenly, and she and her two siblings were split up among family members and foster homes.
She spent her high school years in Orange and Manhattan, and in the late 1940s, she attended college for Physical Education at Russell Sage in Troy, New York. She lived and worked in Rockland County throughout the 1950s, with jobs and apartments in Nyack and Piermont. Betty moved into the little cottage at 22 Closter Road in Palisades in 1962, renting it from Laura Ebmeyer, and around that time she started work as a draftsperson at the Lamont Geological Laboratory nearby.
She continued to work there until she retired in the mid-1990s. Betty loved dogs and bred and showed English Cocker Spaniels for many years under the banner of Bluebell Kennels, which she named after her cottage on Closter Road. During much of her adult life Betty lived with many dogs, sometimes four or five at a time, and her neighbors often saw her wrangling them during walks around Palisades.

She was an avid hiker in Harriman and Palisades Parks and a devotee of the Palisades Library. Betty was an extremely private person, but truly enjoyed her 55 years of living in the close-knit community of Palisades. Betty is survived by her older brother Frank Batchelder, in Columbus, Ohio, and seven nieces and nephews. Her deceased younger sister, Helen Barlow, lived in Detroit, Michigan. For more information, please contact her niece Nina Barlow Glover at nina@ninabarlow.com