In Memoriam: Chuck Barris: A Dreamer and a Doer
May 2017 - Issue 237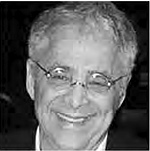 Charles Hirsch "Chuck" Barris, was born in Philadelphia in 1929, and achieved enormous success as the creator of the hit game shows The Dating Game, The Newlywed Game and The Gong Show. He was also an accomplished singer/songwriter, and six-time bestselling author. He passed away on March 22 due to natural causes. He was 87, and our neighbor of 14 years.
Chuck met his wife, Mary, on a blind date arranged by a mutual friend of theirs. The friend described him as being "a brilliant gentleman and a lot of fun." At first Mary resisted, saying, "there was a concern about the age difference," but he won her over with "the fun" part. "Just don't get him mad," she quickly added.

He never wanted people to know that he marched from Selma to Montgomery in 1965. As a result of that civil rights protest, he was the first television producer to put people of color on The Dating Game and resisted outside pressure from the network to remove them. His unauthorized autobiography, Confessions of a Dangerous Mind was made into a film in 2002 and directed by George Clooney. I asked Chuck if the allegations he made in the book were true, namely, that he was an assassin for the CIA. "I couldn't hurt a fly," was his reply. A broader picture of the man could best be seen when Mary invited me over to Thanksgiving dinner a few years back. Unfortunately, her mother was dying in Kentucky at the time and they had to cancel the dinner. Even more unfortunate was that they forgot to tell me. Shortly after I returned home hungry, Chuck knocked on my door, told me he called the cook, invited a few guests and to come back at seven.

He was a smart, eccentric, self-made man who started his career by writing the hit song Palisades Park, and ended it in a town of the same name. If Hemingway was right and the only value we have as human beings is the risks we are willing to take, then Chuck Barris was not only a risk taker, but a groundbreaker. He was a man who wanted to spend time with Mary, and did so for 16 wonderful years. He may be gone now, but he will live in syndication forever.