In Memoriam: Jerry Lieberman
May 2017 - Issue 237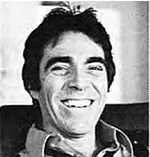 Do you know that man you would always see taking long walks in our neighborhood over the years and clocking them for mileage? That was no man - that was The Great Lieberman: Master of Animation. Jerry passed away on February 24, 2017 from complications due to leukemia (CLL).
Jerry was a director and producer of animation and mixed media. For decades, his Manhattan based studio, Jerry Lieberman Productions, created award winning commercials, music videos, and corporate films, as well as educational and entertainment projects. His films have been screened at the Museum of Modern Art, the Whitney Museum, the Film Forum and The Society of Illustrators.

Born in 1930s honky-tonk Atlantic City, he had no choice but to have an enormous sense of humor - from dark and wry to silly and slapstick. Growing up he was immersed in the wonders of the Miss America Pageant, the Elephant Hotel, the High-Diving Horse, the Ice Capades, Mr. Peanut and salt water taffy. When he was fifteen, he took a photograph of Marilyn Monroe on the boardwalk. She signed her autograph for him and he kept it in his wallet for many years. During summer evenings as an art student, Jerry drew caricatures at the end of the famed Million Dollar Pier. As he sketched, his drawings were projected onto a screen that attracted huge crowds. Over three summers, he drew thousands of caricatures at 50 cents apiece, and was able to finance his college education.

He LOVED cartoons and was a real film buff - everything from Fred Astaire oldies to obscure 3D films to current cutting edge movies. He was an avid reader, and frequently went to theatre, museums and galleries. Jerry is survived by his wife of 35 years, Joan; his daughter Dana; and his brother Ron. His optimism in the face of reality and his fighting spirit will stay with us all. PRESTO-CHANGO! Now you see him, now you don't.