In Memoriam: Lincoln Colwell 1961 - 2016
May 2016 - Issue 233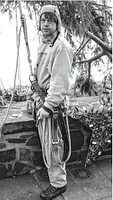 Palisadian Lincoln Colwell, 54, arborist, rower with Piermont Rowing Club, devout churchgoer, stalwart member of "the chatty bass section" in at least two different Episcopal church choirs, "wry, rebellious dude" as an adolescent and a man known for his passionate enthusiasm, his joyful spirit, intelligence, wit, kindness and personal warmth was born in Nyack in 1961 and grew up in Grandview-On- Hudson. He spent all his life in Rockland County where he was active and influential in his chosen spheres.
He recently suffered a fatal fall while working on a tree in Tuxedo Park and died on March 19. A memorial service will be held for him at St. Stephens Episcopal Church in Pearl River, New York at 11:00 am on Saturday, April 30, 2016.
Thoughts, testimonials, and words of sympathy may be posted to the Guest Book on the Wyman-Fisher Funeral Home website www.wymanfisher. com and uploaded to www. facebook.com/lincolncolwell Remembering Lincoln B. Colwell.
Donations in his memory can be made to The Health Lifeline Clinic, 150 Third Avenue, Nyack, New York, 10960.