In Memoriam: Paul Pomeroy
May 2019 - Issue 245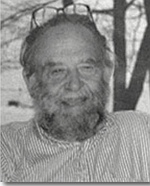 On February 24, 2019, Paul Pomeroy set sail for eternity after 87 years of scientific research. Born August 14, 1931 to Barbara Green and William Octave Pomeroy in Portland, Maine, Pomeroy graduated from Deering High School and received his B.S. in Geophysics from the Massachusetts Institute of Technology in l953. After serving as an officer for three years at the United States Air Force Cambridge Research Laboratories, he started graduate studies at Lamont Observatory of Columbia University and received his Ph.D. in Seismology in l963.
Dr. Pomeroy joined the University of Michigan as full professor and Director of the Seismological Observatory in 1968, and implemented a program for graduate students based on the new discoveries of continental drift and sea floor spreading. He left the university in 1971 to live for a time on the island of Vieques, Puerto Rico, and to pursue his interest in ocean sailing. Later, he joined the New York State Geological Survey. He was appointed as an adjunct full professor at the State University of New York in 1974. In 1976 he formed Rondout Associates, a private consulting firm, where he served as Research Seismologist and President. In 1990 he began to serve as a member of the United States Nuclear Regulatory Commission's Advisory Committee on Nuclear Waste. In 1995 he was appointed Chairman of that body in Washington, D.C.
He was proud of the accomplishments of his children, loved his home on the edge of the Hudson River, supported his wife in her career and lavished love on his Golden Retrievers, especially Midas. He was equally happy pitting his courage against a stormy sea or lazing in a Caribbean harbor after an arduous ocean voyage. He is survived by his wife Lois Burnham, and his five children; Claire (Bill Robertson), Anne (Ed Seliger), Susan, Paul William, Jr. (Suzanne Fillback) and Mike (Cori Rattelman), and seven grandchildren; Katy Pomeroy-Carter, Cassidy Pomeroy-Carter, Risa Pomerselig, Noah Pomerselig, Ethan Pomeroy, Atti Rattelman and Ziyan Rattelman.