In Memoriam: Walter Arnold Finck 1920-2016
May 2016 - Issue 233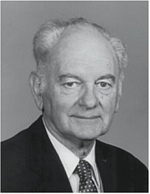 Arnold Finck, Arn to his friends and family, was born in Jersey City, New Jersey in 1920 and grew up in Grand View, New York. He spent his childhood exploring the Hudson River with his younger brother, Howard. The two Finck boys along with several friends—the self-named River Rats—would fish and iceskate on the river. They even built their own canvas canoe.
Dad loved to tell stories of how he and his brother hunted for watercress growing near streams and in the hills behind their house. They would sell the watercress for pocket money. When Dad was older, he and a friend bought an old Ford Model T, named "Smeltz." They fixed it up, putting in a new motor among other things. To pay for the gas, they had advertising on the car. Unfortunately, his friend was in an accident and the car was totaled. The incident made the local paper, including a picture of the "old jalopy."
Dad was twenty when he met Elizabeth Ann Fox at a Christian Youth League meeting. They were both very involved in each of their churches. Dad enlisted in the Army during WW II in 1942 and served for three years, mainly on the island of Antigua. He was overseas when he and Liz decided to get married. Mom loved to tell the story of how she had to leave the date blank on the printed invitations until they were sure when Dad would get leave. When he knew he was coming home, she hand wrote the date in.
Arn and Liz settled into the house on Washington Spring Road in Palisades a few years later and proceeded to spend the rest of their lives there. They had three children and many dogs. They expanded the old 1830's house, eventually building a pool. The pool became a central location for neighborhood children, friends and Church social functions. Dad was well known for the beautiful gardens on the property. He took great pride in showing off and teaching anyone about the prize roses he lovingly tendered. He would painstakingly take a coffee can around to each bush and knock those "horrid" Japanese beetles off the flowers and into the can. His lovely garden was the setting for many family and friends' weddings.
After the war, Arn worked for New York Life in the city. In 1950, he joined the newly formed Lamont Geological Observatory in Palisades as an administrator. In an interview about his career, Arn said he considered his greatest successes were the "creation of administration processes that helped to organize the young campus which all had to be done from scratch and the construction of its first buildings, including Oceanography, Seismology, and a Geoscience building." He helped with the leasing, purchasing, and operation of several ships including the Vema, which he loved to visit when it was docked at the Piermont Pier (which he helped to get renovated). One of his greatest achievements, according to my Mom, was the creation of an employee cafeteria, but Dad would usually walk home from work everyday for lunch, much to her dismay.
When not solving the many problems at Lamont, Dad was active in the community. He was treasurer of the Palisades Presbyterian Church for many years, also ushering and serving on several committees. He was on the Rockland Cemetery Board and involved with the library and Historical Society. But most of all, Dad was involved with his family. His wife, three children, eleven grandchildren and twenty-one great-grandchildren kept him very busy. He had enormous patience and love for everyone and will be sorely missed by us all.